Risk analysis for road tunnels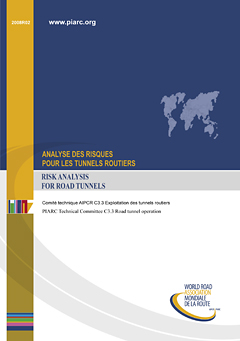 Risk analysis is an important tool which can be used to help improve and optimise the safety of road tunnels. Risk analysis is now explicitly required by the European Directive 2004/54/EC, on minimum safety requirements for road tunnels in the Trans-European Road Network.
The report summarises the worldwide application of risk analysis methodologies for road tunnels and provides details about the adopted methods, the concept of risk evaluation, the experience of practical application and the suitability of the methodologies, including:
Austrian tunnel risk model TuRisMo,
Dutch scenario analysis for road tunnels,
Dutch TUNPRIM model,
French specific hazard investigation,
Italian risk analysis for road tunnels,
OECD/PIARC DG QRA model (for dangerous goods transport through road tunnels).
Recommendations are provided on the standardisation of some specific elements of risk analysis in road tunnels.
Information sheet
Date: 2008
Author(s): Comité technique 3.3 Exploitation des tunnels routiers / Technical Committee 3.3 Road Tunnel Operation
Domain(s): Risk Management / Road Tunnel Operations
PIARC Ref.: 2008R02EN
ISBN: 2-84060-202-4
Number of pages: 245