Survey of focused funding of environmental mitigation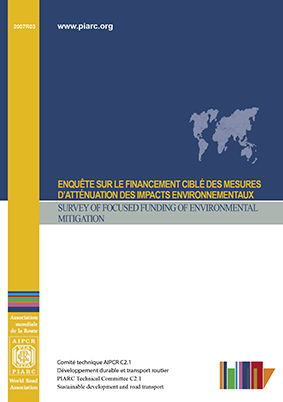 Concerns about environmental quality, social equity and economic vitality have converged to produce a growing interest in the concept of sustainable development. Efforts are being made all over the world to increase the sustainability of development patterns and road transport. In countries throughout the world particular attention is being paid to the critical roles played by both transportation and land use. Today, sustainable development is widely viewed as development that improves the standard of living and quality of life both now and in the future.
Sound environmental management and social equity is critical to sustainable development. In the United States and in many other countries, special attention is being given to focusing funding needs in respect of environmental and social outcomes. Among the countries, how the financial implications of environmental policies and the environmental aspects of projects are taken into account, if at all, may vary. The level of certainty around funding also varies greatly.
By creating plans and programs that identify specific funding addressing social and environmental objectives, mitigation options can be more focused and opportunities for enhancing the natural and human environment can be identified.
Information sheet
Date: 2007
Author(s): Comité technique 2.1 Développement durable et transport routier / Technical Committee 2.1 Sustainable Development and Road Transport
Domain(s): Road Policies / Environment / Financing of Road System
PIARC Ref.: 2007R03EN
ISBN: 2-84060-191-5
Number of pages: 35