Snow and ice databook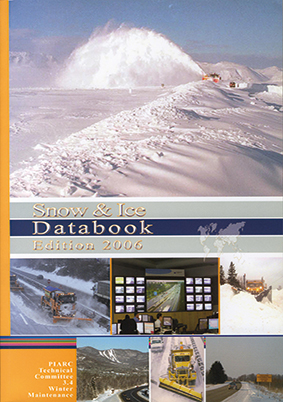 The Snow and Ice Data Book was first published on the occasion of the XIth International Winter Road Congress, 2002, Sapporo (Japan) and contained information from 15 countries. This book was a valuable tool to support the exchanges of experiences between international experts. For this reason, the PIARC Executive included a revision to this document in its Strategic Plan for the 2004-2007 cycle.
Technical Committee 3.4 on Winter Maintenance was pleased to carry out this important work and prepared this update for the XIIth International Winter Road Congress, 2006 in Turin (Italy). This second edition includes updated data and facts on winter maintenance practice in 22 countries.
The Snow and Ice Data Book Edition 2006 published by PIARC is again a precious tool to support knowledge transfer between international experts as it includes the whole scope of topics related to today's winter maintenance. New themes have also been added on economic and environmental issues, publicprivate road partnerships, training, road user needs and emerging technologies.
Information sheet
Date: 2006
Domain(s): Winter Service
PIARC Ref.: SNOW AND ICE DATABOOKEN
ISBN: 2-84060-187-7
Number of pages: 205