Training program Design - Tehnology Transfer in the Road Sector - Transport Guidelines for Training Programs Design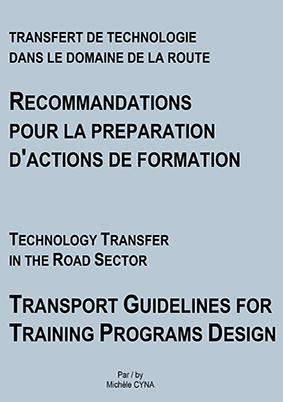 These methodological guidelines are mainly aimed at countries wishing to acquire new technologies by way of transfer, in the road sector, in its broader meaning, which includes construction, maintenance and operation of roads as well as organization and management. These guidelines address the criteria for choosing the transferred technology, they also propose a comprehensive approach to design and implement a training programme that will foster the success of the technology transfer. The guidelines can be used as a basis for training terms of reference, and it spells out the basic principles for choosing the actors involved in a technology transfer.
Institutions from the transferring countries will find in these guidelines the main steps that will lead their work on implementing technology transfer processes.
Information sheet
Date: 1999
Author(s): Comité technique 3 Routes dans les régions en développement / Technical Committee 3 Roads in Developing Regions
Domain(s): General
Type: Bilingual English - French
Published in 1999
PIARC Ref.: 03.06.BEN
Number of pages: 28