PIARC International Climate Change Adaptation Framework 2023 – Technical Report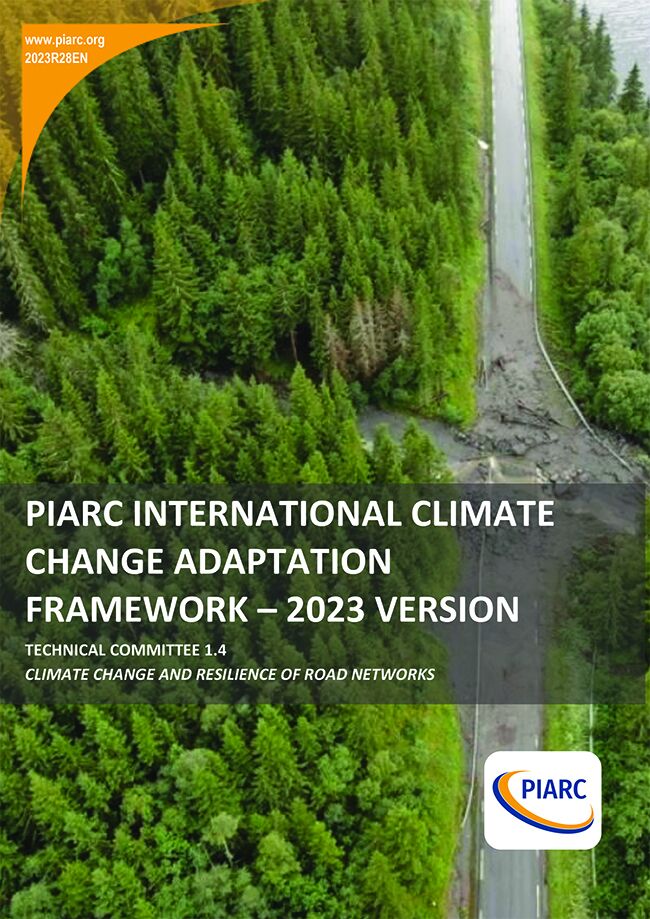 Climate change is a strategic risk to road organisations. Global climate change projections show that there will be gradual changes to average climatic conditions, and changes to the frequency, severity and location of extreme weather events. These climate changes are anticipated to have significant impacts on the design, construction, operation, maintenance and use of global road and transport infrastructure. This is why adaptation principles to address these climate hazard-induced impacts are needed.
The Adaptation Framework (FW) can help organisations identify adaptation principles and increase the climate resilience of transportation assets, operations, and services. Unlike the Framework of 2015, the 2023 version does not include one specific assessment method. Instead, it provides a structure upon which various methods can be applied. It is flexible, based on different levels of expertise, data availability, and resources to suit a variety of situations and specific needs. Case studies are included to provide real-life examples of the different approaches described in the report.
The Framework consists of four main stages according to a suggested sequence:
Stage 1 Preparation – identify scope, variables, risks, and data
Stage 2 Assessment pathways – assess and prioritise vulnerability and risk
Stage 3 Adaptation measures – develop and select adaptation responses and strategies
Stage 4 Incorporating findings – integrate outcomes into decision-making processes
In addition to the stages above, optional sub-steps are described and shown as a "honeycomb" that demonstrates interconnections between stages and sub-steps. Stage 2 allows for adjustments to the needs and resources of the user.
The updated Framework emphasises the need to plan for the iteration of adaptation work, reviewing and improving the baseline, and ensure compatibility of adaptation work with other systems and processes to support implementation.
Information sheet
Date: 2023
Author(s): Comité technique / Technical Committee / Comité Técnico 2020-2023 1.4 Changement climatique et résilience du réseau routier
Domain(s): Environment
Type: 2023R28EN – Technical Report
PIARC Ref.: 2023R28EN
ISBN: 978-2-84060-803-5
Number of pages: 391