Improving Road Tunnel Resilience, Considering Safety and Availability - Technical Report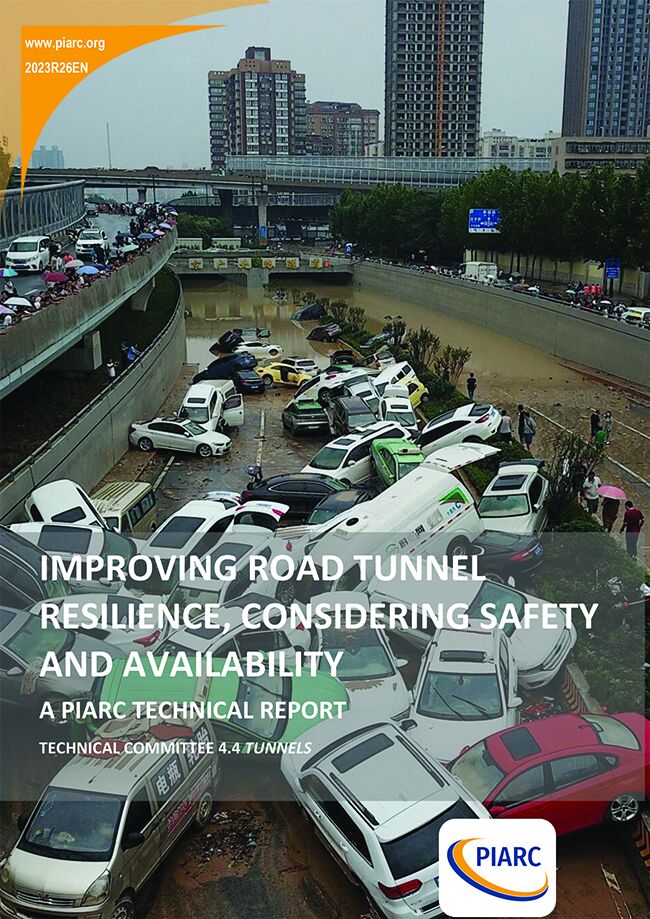 This report presents a road map to improve the resilience of road tunnels, based on a literature review, a collection of case studies and the knowledge and experience of the members of Working Group 2 "Safety and Resilience" of PIARC Technical Committee 4.4 "Tunnels". The content of the report is addressed at several target groups involved in the planning, design, implementation, operation, maintenance and refurbishment of road tunnels, such as decision makers, tunnel owners and managers, tunnel operators, emergency response services, designers, tunnel safety experts, safety officers and risk analysis specialists. Much of the content of the report is relevant for both high-income as middle- and low-income countries, because resilience is a concept rather than a specified recipe; management approaches and improvement measures can (and should) be tailored to the local requirements, goals and circumstances.
The literature review focusses on the following topics:
General concepts and approaches for resilience management and improvement;
Legislation, standards, strategies and policies;
Criteria and requirements for resilience, availability and safety as a mandatory constraint;
Various events and future developments to be resilient for, like weather conditions, climate change and other natural hazards like earthquakes and flooding, traffic incidents and traffic developments, calamities like fire, physical and cyber-security incidents (including terrorist attacks), failure of technical or operational safety measures, maintenance and refurbishment works and technical and social developments like SMART mobility and the growing use of new energy carriers for vehicles;
Possible measures to improve road tunnel resilience for these events;
Organisational and managerial aspects of resilience improvement.
The collection of case studies covers the wide range of resilience topics and aspects mentioned above, thus providing valuable insight in current practices worldwide. Included are cases from Australia, Austria, Belgium, France, Germany, Italy, Japan, The Netherlands, South Africa, South Korea, Spain, Switzerland and The United Kingdom.
The presented road map for the improvement of road tunnel resilience is a synthesis of the insights and experiences derived from the literature review and the collection of case studies. Since resilience management is relatively new to the tunnel industry, or at least not yet wide-spread, the presented road map is a starters approach, with possibilities to grow into the full-fledged approaches that are already available.
The report is completed with conclusions and recommendations for the target groups (see Chapter 5), an extensive reference list, a glossary and appendices.
Information sheet
Date: 2023
Author(s): Comité technique / Technical Committee / Comité Técnico 2020-2023 4.4 Tunnels / Tunnels / Túneles
Domain(s): Road Tunnel Operations
Type: 2023R26 - Technical Report
PIARC Ref.: 2023R26EN
ISBN: 978-2-84060-801-1
Number of pages: 309