Uniform and Holistic Approaches to Resilience: Climate Change and Other Hazards - Technical Report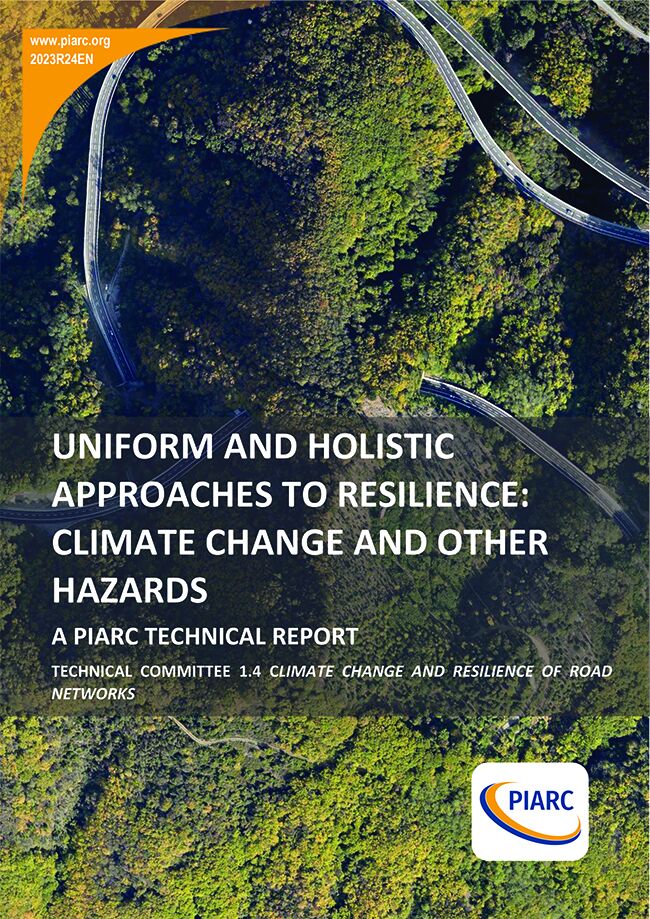 This report focuses on the resilience of road networks in the context of climate change and various hazards, emphasizing the need to consider environmental risks, chronic threats, and acute shocks. Natural hazards are highlighted as a significant global challenge, with extreme weather events and human-induced environmental damage considered the most detrimental threats to road infrastructures. The report calls for urgent attention and strategic planning, strongly encouraging the inclusion of an overview of recent natural disasters and their impact on road networks.
The purpose of this report is to explore the concept of resilience, beyond climate change to consider other hazards. As such a diverse and representative collection of global risks is provided through a survey conducted by PIARC TC 1.4 and is supported through the collection of over 70 case studies. The majority of threats considered by Working Group 1 were climate change and extreme weather-related natural hazards, followed by aging infrastructure. Man-made disasters and cyber threats were also considered, reflecting a multifaceted approach to risk assessment.
The complex interrelationships between different types of hazards are explored, offering a nuanced understanding of how they interact. The report includes coverage of the triggering relationships, amplification relationships, and compound relationships, with chronic and acute threats underscoring the need for a comprehensive approach.
Various societal impacts are also explored, affecting both the physical infrastructure and the broader community. The linkages between different hazards and their impacts are emphasized, including an analysis of the economic costs of disruptions, social implications of road closures, and potential benefits of proactive resilience planning.
The report also includes the importance of stakeholder engagement as a critical component of resilience planning, with a methodology outlined for systematic identification and mapping of stakeholder groups. Collaboration and communication are highlighted as essential in achieving resilience goals.
The report concludes with key findings and offers recommendations for enhancing the resilience of road networks. Collaborative efforts, innovative solutions, and strategic planning are called for to address the multifaceted challenges posed by climate change and various hazards.
This report has been based on a collection of relevant case studies and the best-practice experience of countries in addressing the impacts of climate change on road transport infrastructure and network operations. During the four-year PIARC cycle, the TC held a series of workshops and seminars to further enhance the provision of case studies and experiences relevant to developing this report.
Information sheet
Date: 2023
Author(s): Comité technique / Technical Committee / Comité Técnico 2020-2023 1.4 Changement climatique et résilience du réseau routier
Domain(s): Road Network Operations
Type: 2023R24EN - Technical Report
PIARC Ref.: 2023R24EN
ISBN: 978-2-84060-797-7
Number of pages: 109