Optimizing Road Network Operations Using Big Data - Technical Report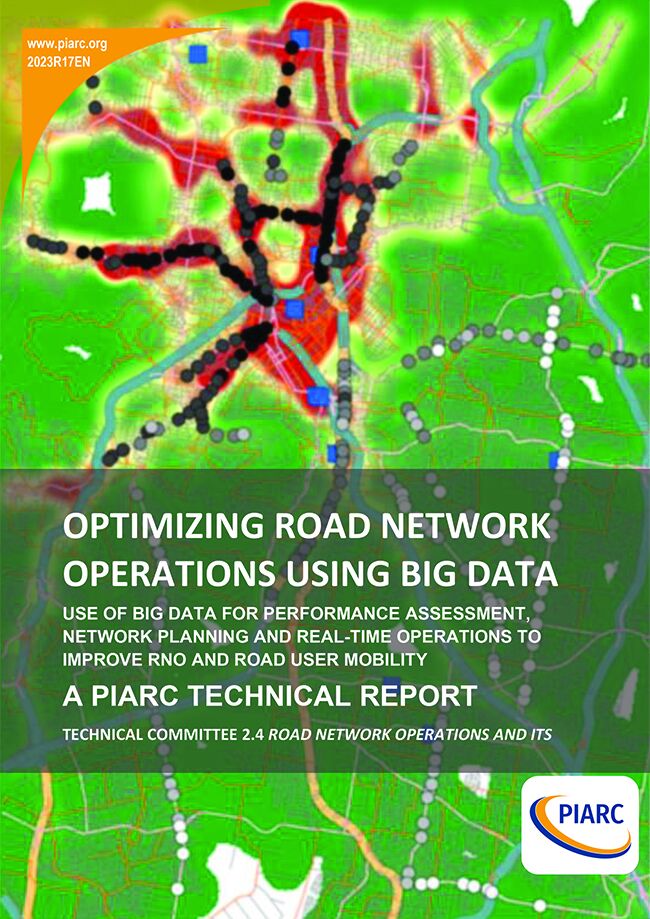 Road network operators are increasingly embracing technology and developing digital infrastructure to effectively manage road networks. At the same time, road users are using technology to enhance trip efficiency and safety, while vehicles on the road network are utilizing an increasing amount of technology to manage fleets, improve safety, and move toward automated operations. These trends have led to an increase in available data for road network operators, which can support improved decision-making.
This work builds upon the previous PIARC cycle's "Big Data for Road Network Operations" report published in 2019. The 2019 "Big Data for Road Network Operations" report identified that Big Data and machine learning techniques have being utilized and can play a vital role in shaping the future of road network operations. Significant progress has been made in the application of Big Data and advanced data analytics in various areas, such as the utilization of probe data, deep learning for Intelligent Transportation Systems (ITS), the value and application of Big Data to public transport, Mobility as a Service (MaaS) and Cooperative Connected, and Automated Mobility (CCAM).
The report presents key findings from a comprehensive literature review and a recent jurisdictional Big Data status survey, encompassing that covers more than 100 responses from 14 different countries. The report also draws upon valuable insights from a wide range of in-depth global case studies, which were curated and published by the Working Group members in 2022. These case studies encompass various applications such as using Big Data to monitor system performance and make informed decisions about project investments, as well as real-time road network operations.
This report also highlights a range of technical and non-technical challenges that need to be considered and addressed through the adoption of a Big Data approach. To succeed, road network operators need to adopt a culture of data-driven decision-making that recognizes the breadth of data available, and the internal capability, resources, and infrastructure required to build, maintain, and enhance Big Data applications. It is important for agencies to ensure that the data collected and used to inform decisions makes a tangible and positive change in the road network. By addressing these challenges and embracing a data-driven approach, road network operators can unlock the full potential of Big Data and make more informed decisions that improve network performance, enhance safety, and optimize investment planning.
Information sheet
Date: 2023
Author(s): Comité technique / Technical Committee / Comité Técnico 2020-2023 2.4 Exploitation du réseau routier / Systèmes de transport intelligents / Road Network Operation / Intelligent Transportation Systems / Operación de la red de carreteras / Sistemas de Transporte Inteligentes
Domain(s): Road Network Operations
Type: 2023R17EN -Technical Report
PIARC Ref.: 2023R17EN
ISBN: 978-2-84060-789-2
Number of pages: 63