Specific Road Safety Issues for LMICs: Illustrative Examples - Collection of Case Studies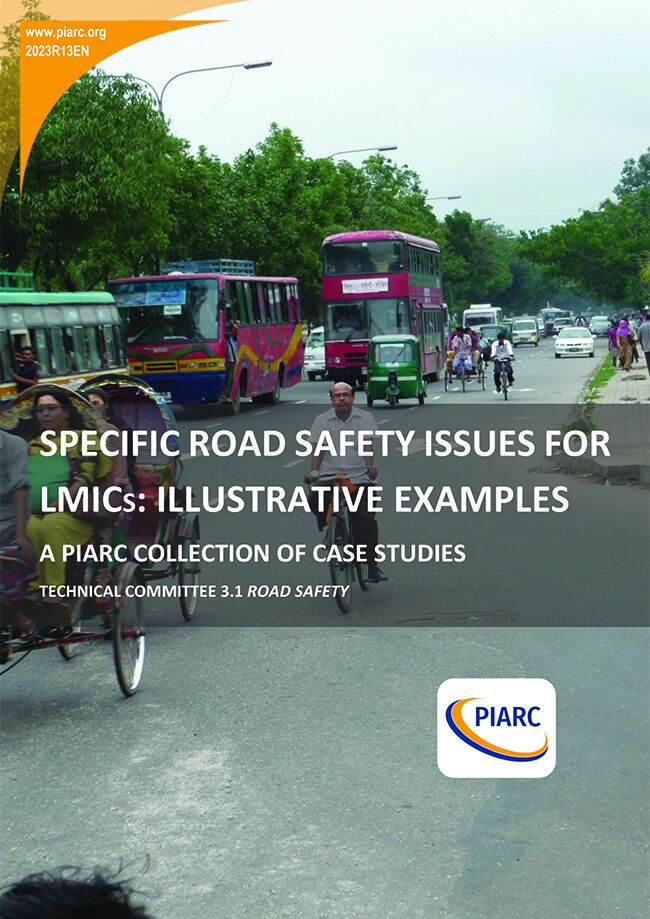 The overview of illustrative examples of road safety measures in LMICs as described in this report is a follow up of an earlier literature review, in which we indicated which specific issues do need further attention in LMICs in the coming period up to 2030. The following issues were considered:
I.SDG's: integral approach
II.Road safety culture
III.Road safety management and leadership
IV.Building road safety expertise and science
V.The transportation system as a whole
VI.City design, architecture, land use and rural planning
VII.Selecting cost effective measures
VIII.Legislation and enforcement
IX.Speed
X.Sustainable safe roads
XI.Safe vehicles
XII.Post-crash health care
The present report gives examples of evidence-based road safety measures for each of these twelve issues.
A robust road safety policy requires an integrated set of measures at the strategical, tactical and operational. The safe system principles have to be translated to the local and regional context, i.e. considering local safety culture and traffic and transport characteristics.
At the strategical level a more widespread implementation of effective road safety measures in LMICs therefore requires a strong national commitment and leadership from the road safety agencies point of view in the first place. Moreover, an evidence-based policy that can be effectively implemented asks for a strong national and regional knowledge infrastructure. This would make it possible to base effective road safety policy on knowledge about evidence-based measures. The lack of such a structure in many LMICs seems one of the important reasons for the limited level of road safety improvements until now. Given that background – and despite existing capacity building programs - countries need strong(er) university programs and a national road safety research organization. Such a knowledge infrastructure seems a prerequisite to translate international road safety knowledge into local guidelines and to develop national research and demonstration programs. Most importantly this local infrastructure should serve as a national road safety knowledge memory. Ultimately road safety policies and road safety research programs are to be considered as inseparable. A strong local knowledge infrastructure may thus become the basis for an effective national road safety policy.
Information sheet
Date: 2023
Author(s): Comité technique 3.1 Sécurité routière / Technical Committee 3.1 Road Safety
Domain(s): Road Safety
Type: Collection of Case Studies
PIARC Ref.: 2023R13EN
ISBN: 978-2-84060-775-5
Number of pages: 30