Measures for Increasing the Adaptability of Road Bridges to Climate Change - Technical Report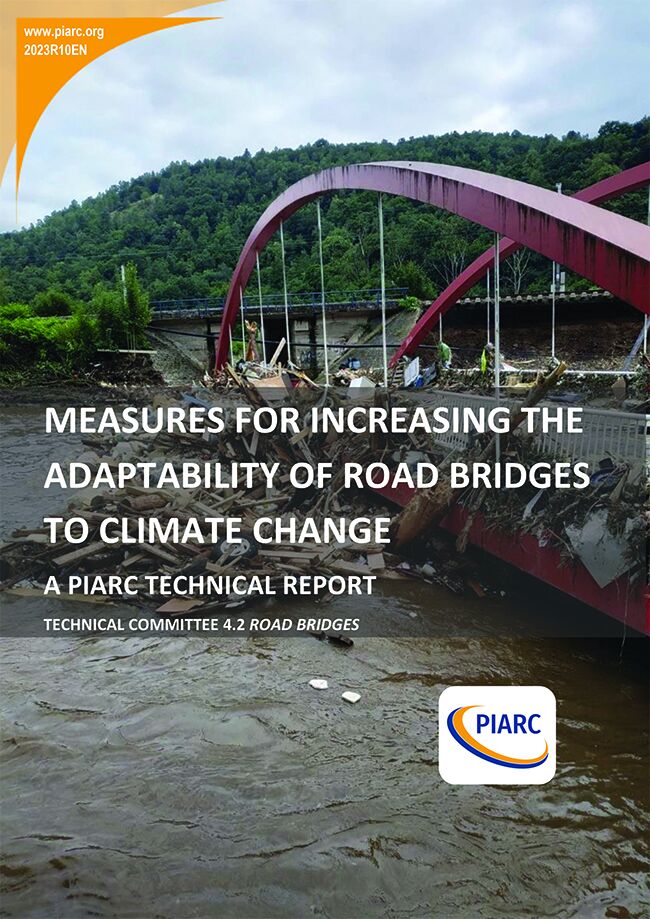 There are already signs of climate change driven extreme weather events in certain parts of the world including heavy rain, flooding, tropical storms, drought, high temperatures and so on. The frequencies of some of these events are also increasing. In general, there are extreme natural events being experienced in many countries resulting in loss of lives and loss or damage to infrastructure.
Climate change has become a global issue of concern and it is for this reason that PIARC has incorporated it into the strategic themes and Technical Committee Bridges for the terms of 2008-2011 and 2012-2015.
PIARC's International Climate Change Adaptation Framework for Road Infrastructure was produced by PIARC T.C E.1 - Adaptation Strategies and Resiliency (SP 2016-2019). Outputs associated with the issue "Measures for increasing resilience to climate change" were expected to provide several measures which will be options for road owners within this Framework.
In order to collect information and case studies associated with measures for increasing resilience to climate change, TC 4.2 collected fifteen sets of answers to general questions and nineteen case studies. According to responses, all countries have experienced different effects of climate change. A majority of the countries that responded believe that bridges are also being affected by flooding and scour driven by climate change. The Netherlands, which is low in elevation, has raised the issue of sea level rise as an impact on bridges from climate change, while Japan and China, which are affected by tropical storms, have raised the issue of wind effects. To address these impacts, it is necessary to revise and/or adjust current bridge design codes so that bridges can better accommodate these changes.
Based on the classification results of nineteen case studies, a mind mapping analysis of the current state of climate change was conducted. This mind mapping was organized in terms of climate, hazards, and impacts on bridges. It is recommended that in order to adapt to climate change in the future, it is important to understand the impacts on bridges due to climate change within a cause and consequence framework since the impacts on bridges due to climate change are different from region to region.

Information sheet
Date: 2023
Author(s): Comité technique / Technical Committee / Comité Técnico 2020-2023 4.2 Ponts / Bridges / Puentes
Domain(s): Road Bridges
Type: Technical Report
PIARC Ref.: 2023R10EN
ISBN: 978-2-84060-766-3
Number of pages: 180