The Role of Transport Agencies in Shaping Disruptive Technologies and Service Models – High Impact Summary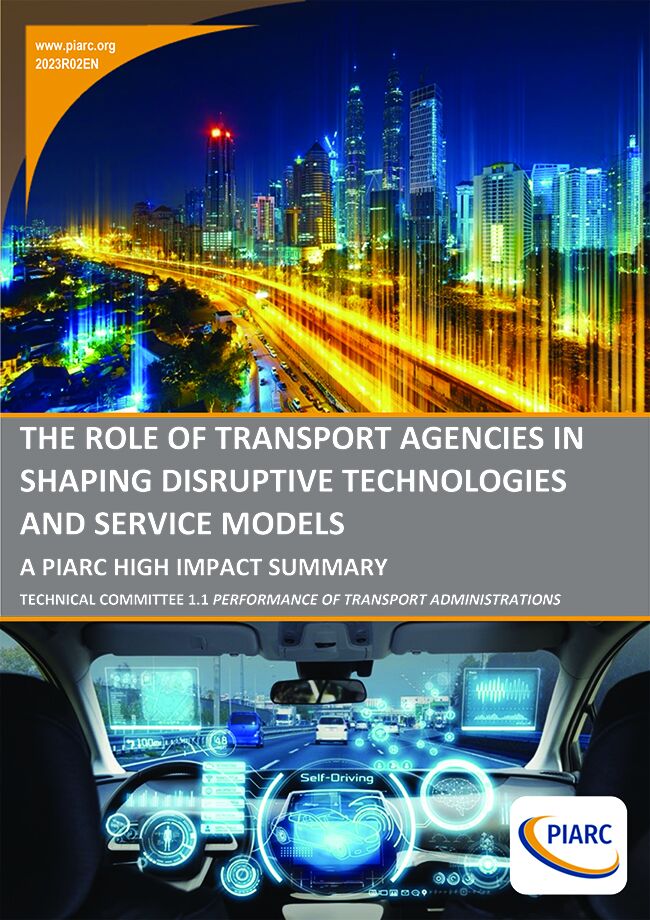 This document is a High Impact Summary of the Final Report on The Role of Transport Agencies in Shaping Disruptive Technologies and Service Models produced by PIARC Technical Committee 1.1 through its Working Group.
Under PIARC's Strategic Plan 2020 - 2023, Technical Committee 1.1 (Performance of Transport Administrations) have sought to research challenges and emerging responses for transport agencies in understanding and successfully shaping disruptive technologies and service models.
Key technologies within scope include connected, electric and autonomous vehicles, digital highways, new transit modes, micromobility and shared mobility platforms, focused on the following questions:
What are the technologies and service models having the greatest potential impact on the transport and mobility sector, in which ways and over which timescales?
What is the current level of awareness, willingness to respond and leadership in respect of technology across transport agencies and how well-equipped are they to manage disruption and change?
In taking these steps, how are agencies adapting their own organisations, for example through building skills and capacity, changing organisational processes, or recruiting new talent?
What collaborative partnerships are emerging, and are needed, to support technological change, within public, private and academic sectors, and how should these partnerships be best managed?
What support is needed to improve agencies' capacity to respond to, and manage, technological change in ways which balance the complex factors at play and deliver public value?
TC 1.1 sought to answer these questions via a range of data collection and analytical methods and has published various intermediate outputs. This Final Report brings the various strands of evidence together and seeks to provide consolidated findings as well as recommendations on the key issues for transport agencies, public and private sector stakeholders, and PIARC itself.
The research concludes that transport agencies have four overarching roles in shaping disruptive technologies and service models. These are (i) Policy Maker and Regulator (ii) Researcher and Developer (iii) End User, Operator and Manager and (iv) Convener, Enabler and Integrator. Application of these roles is highly context specific and varies across organisations and geographies at different stages of development, as does the extent of public sector intervention and regulation of the private sector driving most technological innovation. In addition, not every transport agency takes on available roles and strategies in the same way. There are leaders, early adopters and those which choose to take a more conservative or even resistant approach. In this context, a Future Mobility Maturity Curve has been developed as a series of benchmarks in facing disruptive change. Agencies may assess themselves against this Curve and the extent, shape and nature of organisational change required, desired and justified under their own individual organisational objectives.
Information sheet
Date: 2023
Author(s): Comité technique / Technical Committee / Comité Técnico 2020-2023 1.1 Performance des administrations de transport / Performance of Transport Administrations / Funcionamiento de las administraciones de transporte
Domain(s): Road Policies / Governance of Road Authorities
Type: High Impact Summary
PIARC Ref.: 2023R02EN
ISBN: 978-2-84060-742-7