Towards a Multimodal Approach of the Transport System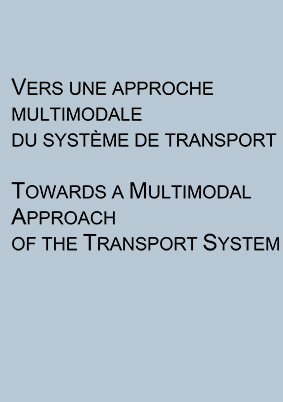 Sustainable development is already used world-wide to represent the need to direct the future of the earth and human beings. The transportation sector plays a major role both for the economic development and the environmental balance of the world.
A comprehensive multimodal approach to the transport system is a major step toward the sustainable mobility in addition to the contribution available from various technological advances in cleaner and energy-saving vehicles.
Later in this report we consider ways to achieve a better integration of the different transport modes, and provide in the appendices examples of where these techniques have been successfully applied. Before doing that we believe it would be useful to consider what is the future cultural development in transportation and how far the transport sector contributes to the economic development.
Information sheet
Date: 2004
Author(s): Comité technique 4 Transport et Développement régional / Technical Committee 4 Transport and Regional Development
Domain(s): Road Policies / Freight Transport
Type: Bilingual English-French
PIARC Ref.: 04.08.BEN
ISBN: 2-84060-157-5
Number of pages: 150