Climate Change, Other Hazards and Resilience of Road Networks - Collection of Case Studies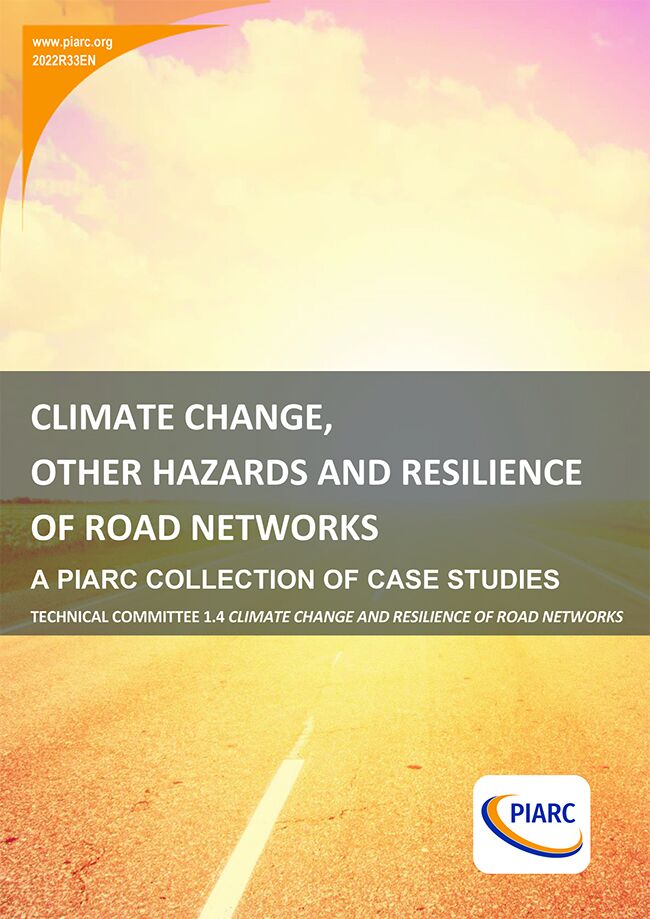 This report contains a collection of case studies related to climate change, other hazards and resilience of road networks. It comprises an introduction, outlining the work program for Technical Committee (TC) 1.4 Climate Change and Resilience of Road Networks, and objectives of two Working Groups within the Technical Committee. These are Working Group 1, which aims to identify uniform and methodological approaches to increasing resilience of roads. It covers hazards and environmental threats within the context of road infrastructure resilience as well as assessing methodologies and approaches to increase resilience. Working Group 2 involves an update of the PIARC International Climate Change Adaptation Framework for Road Infrastructure (PIARC 2020 ; PIARC 2012).
In order to support the development of these PIARC products, a survey to collect international case studies was conducted. This report has been divided into two parts:
Part 1 – Overview of Case Study Collection Process and Results
Part 2 – Assembly of Case Studies
Part 1 provides an overview of the case study collection process, the methodological background, and statistical results of the survey which included 71 studies from 24 countries and 6 continents around the world. It also includes a summary of identified definitions of resilience to contribute to the development of the TC Working Group reports.
Part 2 includes a summary of key case studies collected and summarised according to a consistent template. These have been categorised according to their systematic focus, i.e. which spatial perspective of climate change adaptation and resilience of road infrastructure is addressed by them. Overall, it was found that the majority of case study templates can be assigned to the category 'whole network', followed by the category 'assets/site specific' and 'regional'.
The full reports from Working Group 1 and 2 will refer to these case studies.

Information sheet
Date: 2022
Author(s): Comité technique / Technical Committee / Comité Técnico 2020-2023 1.4 Changement climatique et résilience du réseau routier
Domain(s): Environment / Governance of Road Authorities
Type: Collection of Case Studies
PIARC Ref.: 2022R33EN
ISBN: 978-2-84060-733-5
Number of pages: 56