Contribution to Risk Management of Existing Slopes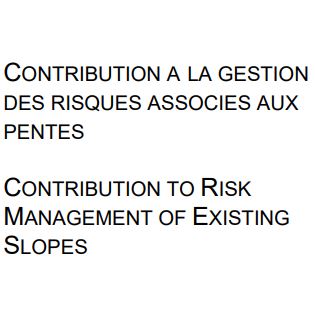 C12 decided to extend those studies and adopted the topic risk management of existing slopes during the period 1995-1999 to focus on the utilization of monitoring techniques and database applications.
The report summarizes the risk management on existing slopes in technical aspects through the collected case study documents and comments from C12 committee member countries. The report also treats the cases of real and administrative applications.
The report considers innovative monitoring technology and observation systems in practical use and discusses future directions of the monitoring technology. Applications of database to risk management and usual applications of databases for the development and evaluation of hazard zonation maps are also studied. The results are summarized in the final chapter as conclusions and recommendations.
Information sheet
Date : 2000
Author(s) : Comité technique 12 Terrassements, Drainage, Couche de Forme / Technical Committee 12 Earthworks, Drainage, Subgrade
Domain(s) : Risk Management / Road Earthworks
PIARC Ref. : 12.11.BEN
ISBN : 2-84060-129-X
Number of pages : 100
Price member: Epuisé / Out of print / Agotado