The Role of Transport Agencies in Shaping Disruptive Technologies and Service Models - A Private Sector Roundtable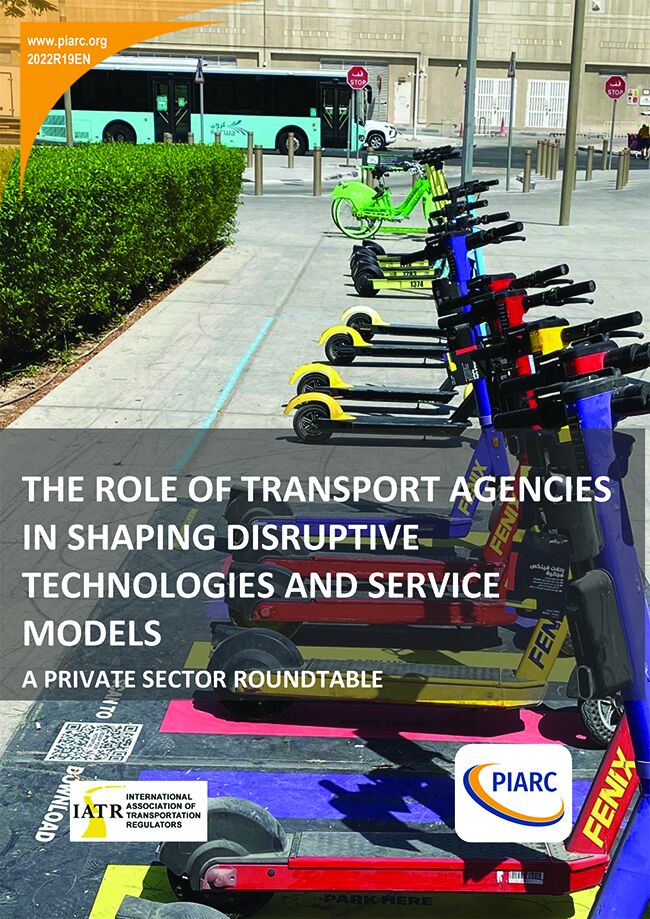 Through its Technical Committee 1.1 Performance of Transport Administrations, PIARC is undertaking an extended investigation of disruptive technologies & service models impacting the roads and transport sector and how transport agencies are responding to the related challenges and opportunities in policy, regulatory, and organisational terms.
Key questions being examined by TC 1.1 include:
• Which technologies and service models are having the greatest potential impact, in which ways, and over which timescales?
• What is the current level of awareness, willingness to respond and leadership across transport agencies, and how well-equipped are they to manage disruption and change?
• In taking these steps, how are agencies adapting their own organisations, for example through building skills and capacity, changing organisational processes, or recruiting new talent?
• What partnerships are emerging, and may be needed, to support technological change?
• What guidance, support tools and other actions are needed to improve agencies' capacity to manage change in ways which balance the complex factors at play and deliver public value?
Most of the work undertaken in answering these questions has focused on the views, perspectives and challenges of the public sector, and the emerging practices of road and transport agencies themselves. However, most innovations are being driven by the private sector, including new start-ups, established original equipment manufacturers (OEMs), subsidiaries of established companies, individual entrepreneurs, partners and investors. These parties exhibit a range of attitudes, approaches, and behaviours in respect of policies, regulations and practices. TC 1.1 resolved to make efforts to gather views of the private sector on the key issues.
To this end, TC 1.1 collaborated with the International Association of Transport Regulators (IATR), to hold a Private Sector Roundtable of key innovators shaping the future mobility ecosystem. This Roundtable was held on 14th December 2021 at the 34th IATR Annual Conference, entitled 'Innovation Workshop – Industry Perspectives on Disruptive Technologies and Service Models Shaping the Transport Sector'.
Some ten firms were represented at the Roundtable, split into groups on Emerged Technologies (current commercial applications now) and Future Technologies (applications under development), in areas including Autonomous Vehicles, Urban Air Mobility, Micromobility, Robotics and Mobility Information. The Roundtable was well attended online with over 100 participants for both groups of the Roundtable.
A wide range of conclusions were elicited on the private sector's approach to disruptive innovation, what it wishes to see from public sector policy makers and regulators and some key principles for a constructive way forward.


Information sheet
Date: 2022
Author(s): Comité technique 1.1 - Performance des Administrations routières Technical Committee 1.1 - Performance of Road Administrations
Domain(s): Governance of Road Authorities / Road Network Operations
Type: A Private Sector Roundtable
PIARC Ref.: 2022R19EN
ISBN: 978-2-84060-703-8
Number of pages: 29