Safety Improvement on Interurban Roads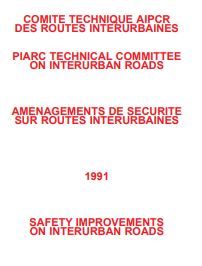 Part one of the report is intended for political decision makers, to persuade them that implementing specific safety programmes is useful, getting them to understand that safety operations are not necessarily complicated and expensive. When road improvement schemes are programmed on the basis of multiple objectives, decision makers should give priority to the safety aspect.
The remainder of the report concerns both decision makers and engineers. Apart from localized "black spot" type methods, it insists on the advantage of a global approach per route. Although it is certainly useful to develop theoretical knowledge on safety, this knowledge must also be applied, and therefore widely circulated in an accessible form. This excludes neither incorporation into standards nor setting up discussion groups, necessary on occasion to resolve certain specific problems. Imaginative solutions are necessary, which takes time since typical solutions are rare.
Information sheet
Date: 1991
Author(s): Comité technique 4 Transport et Développement régional / Technical Committee 4 Transport and Regional Development
Domain(s): Road Safety / Design of Inter-urban Roads
Type: Bilingual English -French
PIARC Ref.: 04.01.BEN
Number of pages: 108