Financing of Road Infrastructures: Guide for New Methods of Financing and Public/Private Partnership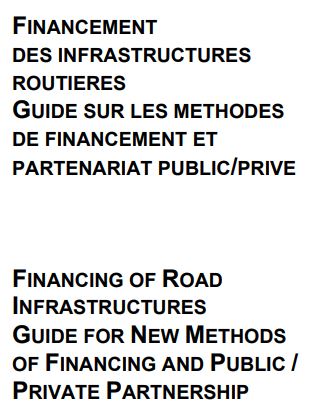 There are various types of road infrastructure financing, from "traditional" public funding through budgetary resource allocation relying on general taxes and duties, to "pure" private funding through limited recourse project financing based on road pricing or toll collection. But road investment needs are huge and allocation procedures reflect a fierce "competition" with other fundamental public services.
Road infrastructure remains however a key element for enhancing economic development. Many countries try to set up new forms of extra-budgetary or off-budgetary financing within the framework of an enlarged and renewed co-operation between public bodies and private companies.
Summarising the contributions provided by PIARC Committee on Financing and Economic Evaluation (C9) members and available publications, the report highlights the main options, and provides guidance, to select appropriate methods based on international best practice.
Information sheet
Date: 2000
Author(s): Comité technique 9 Financement et Evaluation économique / Technical Committee 9 Financing and Economic Evaluation
Domain(s): Financing of Road System
Type: Bilingual English - French
PIARC Ref.: 09.04.BEN
ISBN: 2-84060-116-8
Number of pages: 160