Well-Prepared Projects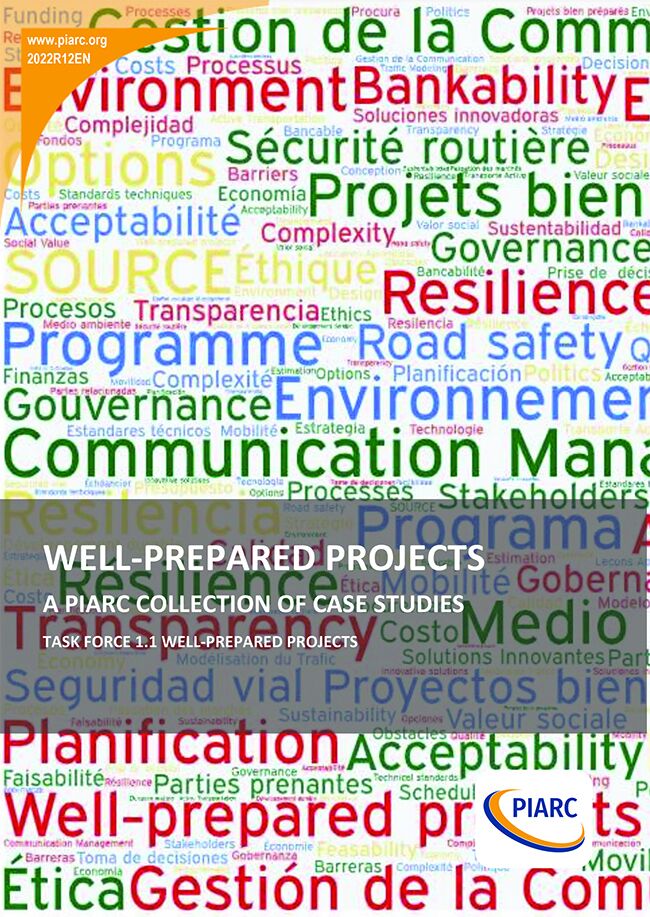 This collection of case studies includes 17 cases from 10 different countries participating in this task force, plus one case dedicated to the use of the SOURCE platform in the preparation of transportation projects. It comes after our first report delivered earlier in 2021 in which we reviewed the overall processes and practices taking place in the 10 countries. The objective of this collection is to provide a variety of highly relevant examples from the real life. Each case outlines good practices in place in a country with a focus on a particular aspect of the project preparation.
The case studies provide short accounts with illustrations and pictures to make the reading easy and attractive for any decision-makers and experts searching for good practices in the preparation of their transportation projects.
The case studies presented are diverse in their scope, some deal with real road projects, while other focus on key aspects of project preparation (e.g., use of BIM technology, use of the SOURCE platform, road safety, waste management, procurement).
A detailed analysis has allowed first, to sort out the findings drawn from the case studies according to various items that are common to most of them, and second, to identify those that can be considered as key components of a good project preparation. Moreover, because the limited number of case studies dealing with Low and Middle-Income Countries (LMICs) may have introduced a bias, and other items should be considered specifically for these countries, we have mentioned these possible shortcomings as and when we felt it appropriate.
We found that for a project to qualify as Well-prepared, the following three overarching items must be addressed:
• Stakeholder management
• Risk management
• Communication management
In addition to the three main topics identified above, some other are discussed in the report, which may also be significant: institutional arrangements, procurement, human resources, and the time dimension.
Finally, new tools can help in advancing better project preparation, such as the BIM (Building Information Modeling). A special mention is made of the platform SOURCE, which should be better known among road authorities, with a special focus on developing countries and LMICs.
However, limitations apply to these key findings:
• This report does not include countries in the middle-lower and lower income levels.
• For the purposes of this report, the project starts at the moment the political decision is taken to build a road infrastructure, up to the tender phase for the construction .

Information sheet
Date: 2022
Author(s): Groupe d'Etudes 1.1 / Task Force 1.1 / Grupo de Estudio 1.1 Projets bien préparés / Well-prepared Projects / Proyectos bien preparados
Domain(s): Planning / Risk Management / Project Management / Road Safety / Road Network Operations
Type: Collection Of Case Studies
PIARC Ref.: 2022R12EN
ISBN: 978-2-84060-687-1
Number of pages: 123