Whole-Life Costing of Roads - Concrete Roads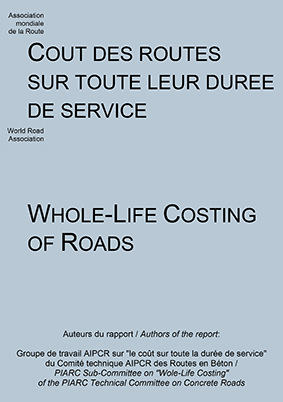 In 1996, PIARC Technical Committee on Concrete Roads (C7) created a subcommittee on the theme "Whole Life Costing (WLC)".
On the basis of a broad view over the subject, based on the existing WLC systems in Sweden and UK (COMPARE), two questionnaires were drawn and issued in 1997. The result of the questionnaires shows that many countries are very interested in this subject, and also that many countries use whole life costing as a basis for decisions about road design and guidelines for the national codes, etc.
A trend in the world is to give the contractors more responsibility and to manage costs with quality assurance systems. Indeed, almost every country has or is developing a Pavement Management System (PMS) today.
Information sheet
Date: 2000
Author(s): Comité technique 7 Routes en Béton / Technical Committee 7 Concrete Roads
Domain(s): Economic Studies / Road Assets Management / Road Pavements
Type: Bilingual English - French, published in 2000
PIARC Ref.: 07.09.BEN
ISBN: 2-94060-114-1
Number of pages: 72