Internal Performance Improvement of Road Administrations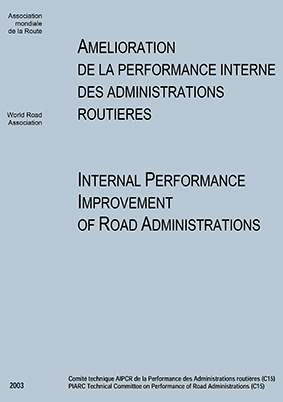 This report sets out a framework for international collaboration in relation to performance improvement of Road Administrations. It develops the background for a dossier of best practice summaries linked to characteristics of country situations so that it will be practicable for the information to be shared and followed up by PIARC member countries, as well as other Road Administrations worldwide.
Other studies have identified that, for many Road Administrations, opportunities exist for performance improvement in the areas of: Governance and management structures; Management systems; Human resource management; Financing arrangements. Road Administrations around the world are addressing these issues by various approaches to institutional strengthening.
In many cases the institutional strengthening involves radical reform of the legal basis of the administration but very significant benefits can be achieved through adopting more businesslike operating principles inside existing structures.
In all cases there is an ongoing need to review the internal performance - organizational structure, systems, resources and procedures, to ensure that best practice is being applied as far as possible within the existing constraints.
Information sheet
Date: 2003
Author(s): Comité technique 15 Performance des Administrations routières / Technical Committee 15 Performance of Road Administrations
Domain(s): Governance of Road Authorities / Road Assets Management
Type: Bilingual English-French, published in 2003
PIARC Ref.: 15.06.BEN
ISBN: 2-84060-151-6
Number of pages: 80