Bridge And Tunnel Strikes By Oversized Vehicles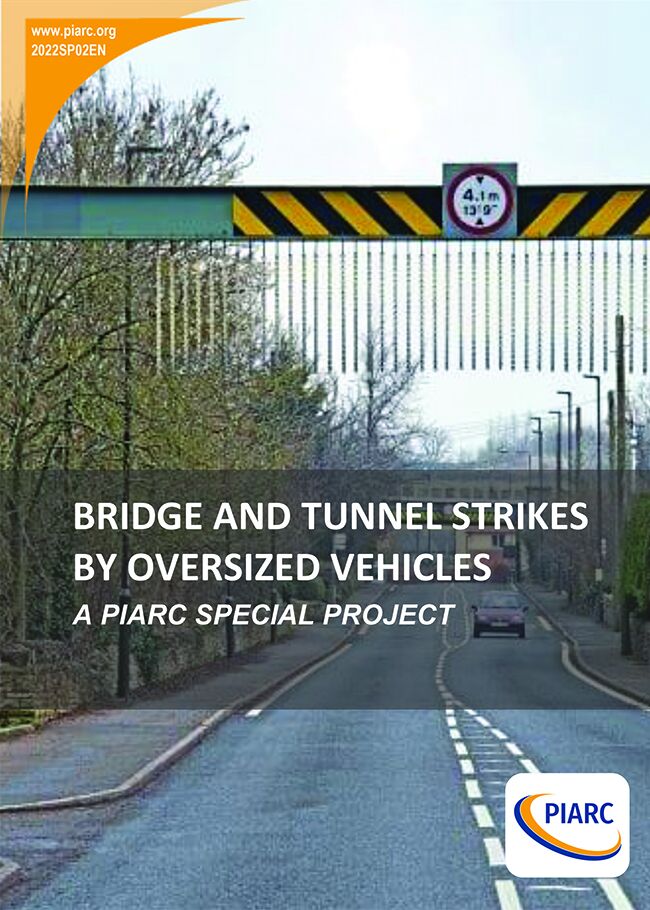 This report details the findings of a study carried out by Roughan & O'Donovan Ltd. (ROD) under the supervision of PIARC, in response to an open call for proposals published by PIARC to conduct the "Bridges and tunnels strikes by oversize vehicles" Special Project. The objective of the study was to examine proven countermeasures, practices, and technologies used to reduce the incidence of oversize vehicles striking bridges and tunnels along with effective processes for accurately reporting and tracking bridge strike occurrences. Specific consideration was given to LMICs, Low Middle Income Countries as per the World Bank classification (World Bank, 2021), with an aim to cater to these regions with specific recommendations.
The Special Project program aims to answer emerging or urgent issues identified by PIARC member countries in a short period of time (less than a year) within an international framework.
The study involved a detailed review of the causes, consequences and mitigation measures available in relation to the bridge and tunnel strike problem. Data was gathered through a combination of surveys, interviews and desk-based research. In order to develop a business case, the economic situation was evaluated by way of Cost Benefit Analysis (CBA). A formal CBA methodology was developed for road administrators in order to discern the best mitigation practices for a given scenario. CBA was also carried out in a global approach to demonstrate the methodology and to draw broad conclusions about effective mitigation measures.
The study made the following recommendations to PIARC:
1. PIARC should perform a sample case study, focusing on a single network or list of structures, showing how the required data can be gathered, and how to use it in a detailed risk analysis and CBA to decide on appropriate interventions.
2. PIARC should champion the development of a data capture guide for bridge and tunnel strikes, coordinating the data internationally to better describe the business case.
While various recommendations were made to HICs (High Income Countries as per the World Bank classification (World Bank, 2021)) and LMICs individually in relation to physical mitigation, the key finding of the study was that the current state of the art is to move toward driver-based mitigation practices such as better driver education, advertising of the consequences and informing legislation in relation to the bridge / tunnel strike problem. The development of a multi-sectoral panel should be formalised in both LMICs and HICs, allowing all key actors to work together to provide a coordinated response to bridge and tunnel strikes.

Information sheet
Date: 2022
Author(s): PIARC
Domain(s): Risk Management / Road Network Operations / Road Pavements / Road Bridges
Type: 2022SP02EN - PIARC Special Project
PIARC Ref.: 2022SP02
ISBN: 978-2-84060-675-8
Number of pages: 179