Public-Private Partnerships and other Innovative Partnerships in Financing Infrastructure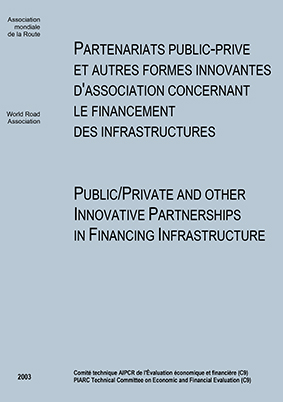 One of the goals of the 2000 PIARC Strategic Plan is to improve the performance of road administrations through an exchange of information on best practices throughout the world. A strategy explored by the Technical Committee on Economic and Financial Evaluation - C9 was to identify successful experiences in public private partnerships (PPP) with particular regard to structural arrangements, risk assignment, finance and revenue collection.
This report outlines the results of C9's investigation into public private partnerships. The information contained in the report analyses the responses to a questionnaire survey sent to member countries of C9.
Information sheet
Date: 2003
Author(s): Comité technique 9 Financement et Evaluation économique / Technical Committee 9 Financing and Economic Evaluation
Domain(s): Financing of Road System
Type: Bilingual English-French
PIARC Ref.: 09.05.BEN
ISBN: 2-84060-146-X
Number of pages: 96