Disaster Management: The Effects And Management Of Covid-19 Whilst Looking To The Future - Briefing Note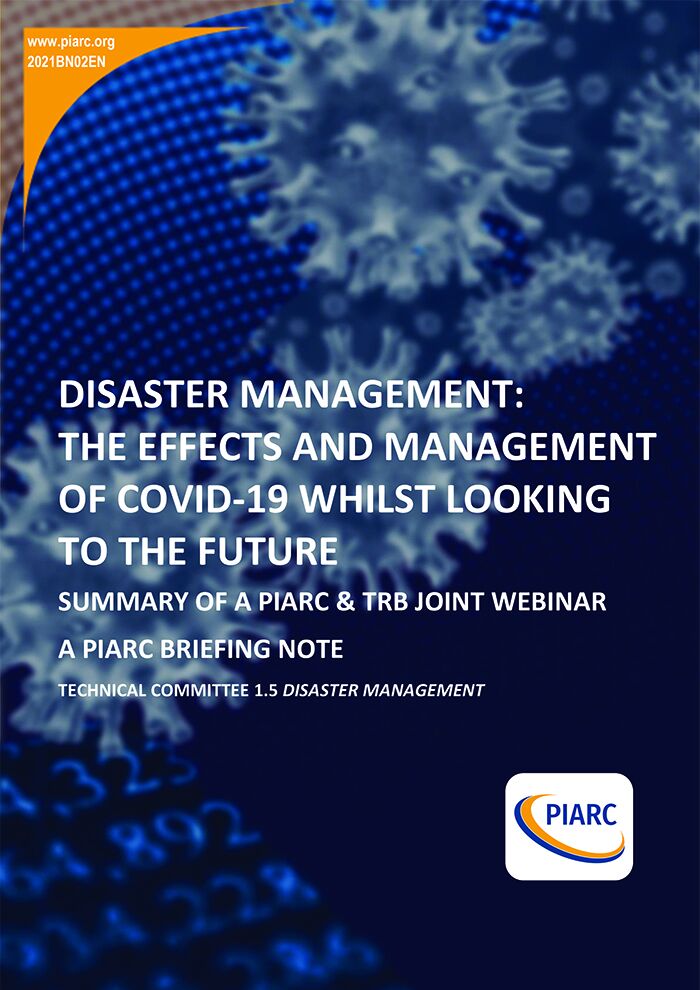 No matter what the disaster is, no matter what the pandemic is, we as road administrators must minimize the disaster impacts to our transportation infrastructure. To share the experiences of disaster management amid COVID-19, PIARC TC 1.5 "Disaster Management" of PIARC and TRB AMR00(2) "Transportation Emergency Management Practices and Innovations Subcommittee" organized a joint webinar on June 30, 2021.
The webinar invited six speakers from all over the world. All the presenters reported that the disaster response techniques they had developed, mitigation, preparedness, response, and recovery, functioned effectively even during COVID-19, thanks to the introduction of recently improved IOT technology. However, there was a temporary shortage of disaster response personnel and a decrease in disaster response efficiency, indicating that we have room to adjust, and improve, our model in preparing for the next pandemic.
Presentations indicated that one of the directions for better disaster management is "Digital Transformation" and "Innovative Technologies". The webinar is concluded with a recommendation that all road administrators develop and introduce disaster management technologies using digital technology and new sensing technology.
Information sheet
Date: 2021
Author(s): PIARC COVID Response Team / Equipe de réponse COVID de PIARC / Equipo de respuesta COVID de PIARC
Domain(s): Economic Studies / Project Management / Road Network Operations / Freight Transport
Type: Briefing Note
PIARC Ref.: 2021BN02EN
ISBN: 978-2-84060-662-8
Number of pages: 12