Earthworks Manual - Specific technical developments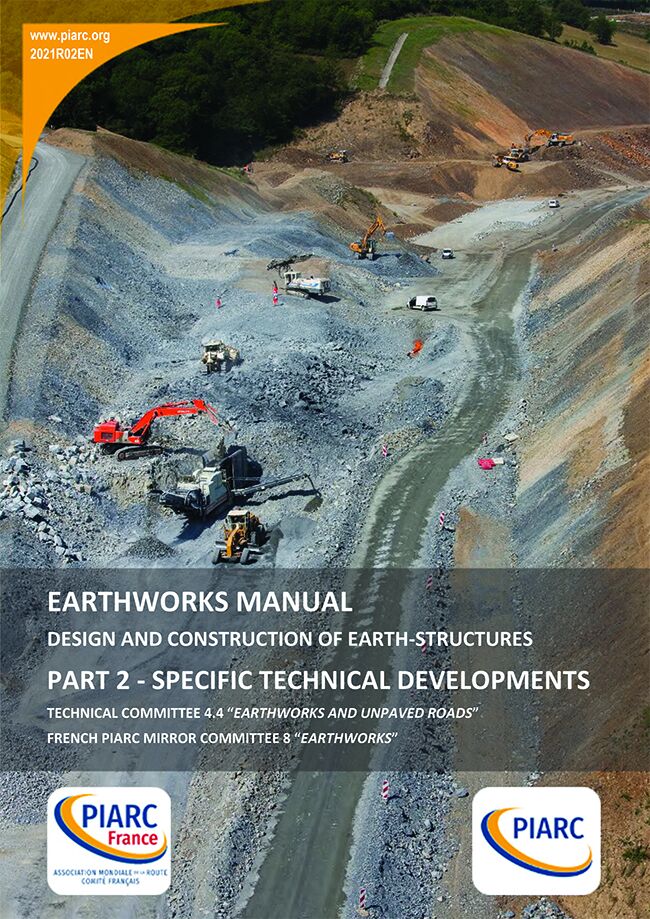 The general considerations in Part 1 show in summary the earthworks process and the different phases of construction of earth-structures.
The Part 2 develops the specific, transverse technical topics that are most relevant to our field.
These topics are dealt with in depth in order to promote the sharing of knowledge of specific earthworks techniques and methods. They are based in particular on feedbacks and technical references resulting from previous PIARC work and also from more recent work, espacially European work.
The developments focus on the following strategic vectors:
The utilisation of resources made of materials in their natural state due to their appropriate intrinsic properties, or which can be improved by treatment techniques for optimal use.
Economical and environmental aspects are considered and are to be optimized at the various stages of design and execution of the project.
Part 2 consists of 5 booklets:
2C - Earthworks project
2D - Earthworks execution and controls
2E - Environmental aspects

MANUAL PARTS
PREAMBLE
PART 1 - General considerations
PART 2 - Specific technical development
Information sheet
Date: 2021
Author(s): Comité technique / Technical Committee / Comité Técnico D.4 Terrassements et routes non revêtues / Earthworks and Unpaved Roads / Obras de tierra y caminos no pavimentados
Domain(s): Road Earthworks
Type: Part 2 - Specific technical developments
PIARC Ref.: 2021R02EN
ISBN: 978-2-84060-641-3