COVID-19: initial impacts and responses to the pandemic from road and transport agencies - Technical Report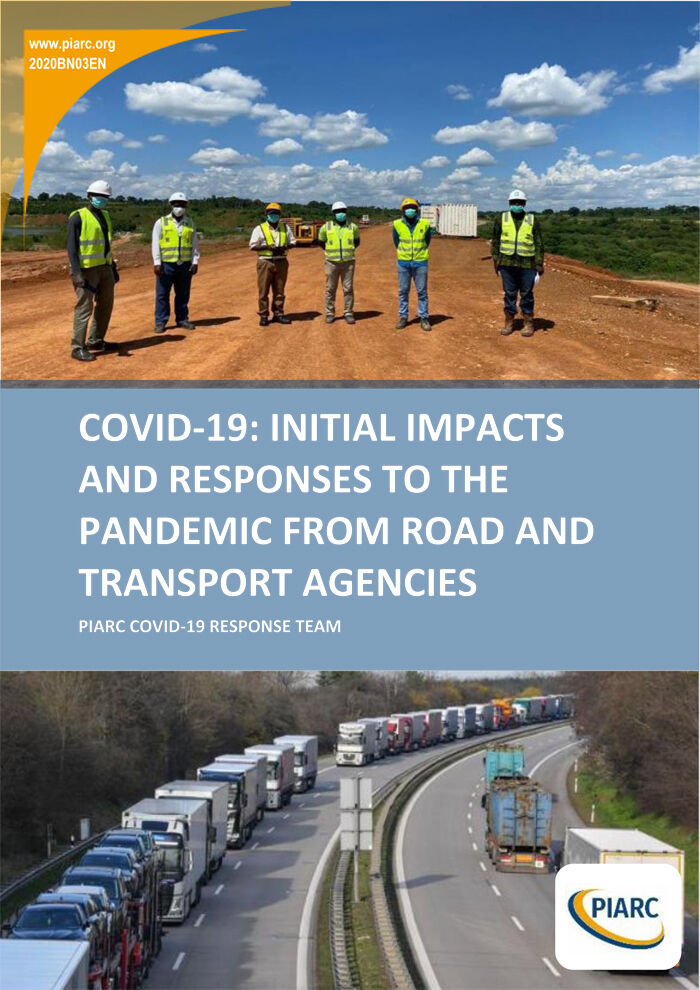 The road transport sector, and the organisations and professionals who manage it, is an essential service and PIARC recognized the potential for COVID-19 to cause severe disruption to the road transport sector early on. In mid-March 2020, PIARC moved to establish a formal PIARC COVID-19 Response Team to explore the rapid sharing of knowledge and practice between PIARC members in terms of pandemic impacts, associated economic and social crisis and the relevant responses. Activities were rapidly launched focused on an extensive programme of more than 20 webinars, briefing notes, surveys and others.
This Report highlights the programme of PIARC COVID-19 webinars between March and July 2020. It sets out impacts of, and responses to, COVID-19 from the roads and transport sector in the early stages of the pandemic; highlights lessons learnt and recommendations which may be relevant to the remaining period of the pandemic or to subsequent crises which may arise on an equivalent scale; briefly touched on some of the key issues which may be relevant to economic and social recovery from the pandemic in the coming months and years; and sets out possible lessons which might be considered, to PIARC's mission, programmes and operating practices, including within the current 2020 – 2023 Strategic Plan.
The key conclusions and recommendations of the Report as the pandemic continues into 2021 highlight the strategic and essential value of road transport, and acknowledge that road and transport organisations have demonstrated their speed of reaction and adaptability. They address several areas: economic measures to support businesses, road works, data, security, disaster management and resilience, passenger and public transport, freight and logistics, intelligent transport systems, road safety, winter service, workforce.
A series of implementation actions are also presented. They provide a blueprint for road authorities and operators as well as for PIARC, on PIARC's Response, monitoring the new transport "normal", contributing to economic recovery, continuing collaborations with partner organisations, filling gaps in evaluation, and sharing knowledge.
Unfortunately, at the time of writing in December 2020, infection levels are once again increasing and new pandemic impacts and responses are still emerging. The COVID-19 Response Team is therefore continuing its activities.
Information sheet
Date: 2020
Author(s): PIARC COVID Response Team / Equipe de réponse COVID de PIARC / Equipo de respuesta COVID de PIARC
Domain(s): Economic Studies / Project Management / Road Network Operations / Freight Transport
Type: Technical Report
PIARC Ref.: 2020BN03EN
ISBN: 978-2-84060-728-4
Number of pages: 150