COVID-19: Key Lessons for the Road and Transport Community from the Latest PIARC Webinars - Briefing Note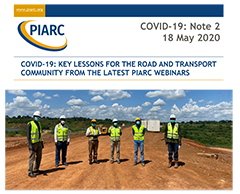 PIARC organizes weekly online discussions on the response to the COVID-19 crisis. They are open to experts appointed by their National PIARC First delegate and to PIARC Technical Committee / Task Force members.
The objective of the sessions is to share knowledge and current practice between PIARC members urgently in order to support responses to the pandemic in near real-time.
Information sheet
Date: 2020
Author(s): PIARC
Domain(s): Economic Studies / Project Management / Road Network Operations / Freight Transport
Type: Briefing Note
PIARC Ref.: 2020BN02EN
ISBN: 978-2-84060-619-2
Number of pages: 6