Large Underground Interconnected Infrastructure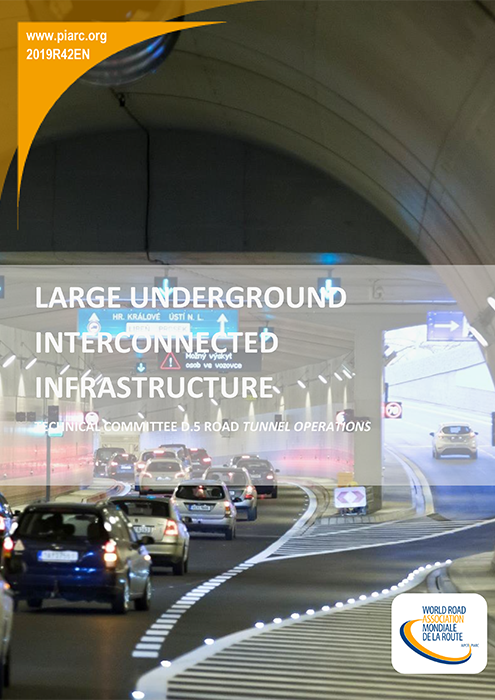 This report is a continuation of the previous one published in 2016: "Road tunnels: complex underground road networks" (2016R19EN).
Its objective is twofold:
extend the panel of networks investigated, both geographically and in terms of their complexity and diversity,
analyse in a much more thorough manner the particularities of this network nature, including:
the geometry and impact of all the constraints related to the interchange points and connections,
ventilation facilities: aspects related to traffic assumptions – surface impacts – specific concepts and design – implementation, equipment and facility acceptance tests, and verification of the performances of the overall system,
signalling: location of an incident and addressing – signalling devices – evacuation aid,
the operation and management of interfaces between the many operators involved in a network – organisation – the multiplicity and complexity of interfaces – safety – traffic management – special care and maintenance provisions.
Other networks were assessed during this cycle, and additional monographs were published. However, the statistical data from the 2016 report has not been updated, as the number of new networks analysed is insufficient.
The analysis presented in this report is particularly relevant to the major aspects of a network of large interconnected underground infrastructures, especially:
the multiple interfaces between operators and the organisational structures,
the need to create a "Coordinating Entity" between the various operators, its obligation of overall effectiveness in respect of particularities and responsibilities of each individual operator.
The consequences of complex interconnected underground networks may often be underestimated, particularly when it results from adding new infrastructure to existing infrastructure that has not been designed for this purpose. The feasibility and relevance of this new network can only be validated after an in-depth analysis.
Information sheet
Date: 2019
Author(s): Comité technique / Technical Committee / Comité Técnico D.5 Exploitation des tunnels routiers / Road Tunnel Operations /Explotación de Túneles de Carretera
Domain(s): Road Tunnel Operations
Type: 2019R42EN - Technical Report
PIARC Ref.: 2019R42EN
ISBN: 978-2-84060-594-2
Number of pages: 97