Bridge Design Toward Improved Inspection And Maintenance - Technical Report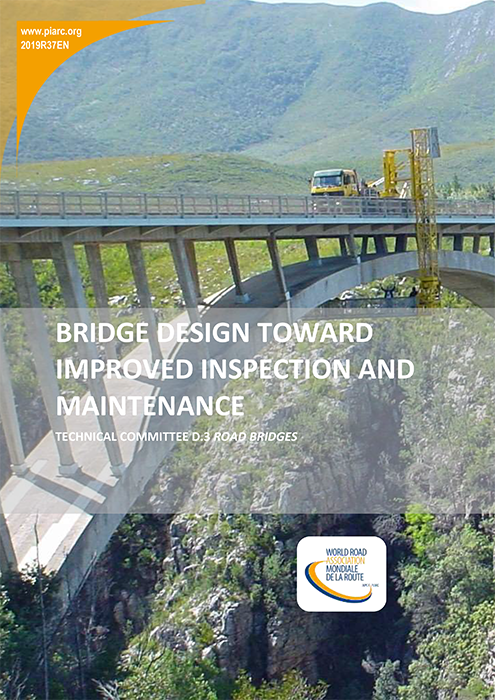 The principle of designing bridges while having in mind the future inspections and maintenance has often been overlooked in the past, when in the design stage greater emphasis was placed on firstly fulfilling just the "initial requirements" of the bridge – mainly structural safety and serviceability – and secondly minimizing the initial capital cost. This approach has, in many instances, resulted in costly future maintenance which far exceeded the initial capital savings of not considering the aspects of inspection and maintenance.
Thus, bridges need to be designed so that they can be easily and properly inspected and maintained. This requires that the aspects of inspections and maintenance are seen as an integral consideration in the design instead of being treated as an afterthought. All elements of a bridge should be designed such that a bridge owner is able to inspect and maintain them, as well as to take into account elements that will need to be replaced during the design life of the bridge.

This report presents the outcome of an investigation into the design and detailing practices from various countries that are specifically directed toward facilitating the undertaking of future inspections, maintenance and replacement of bridge elements. This investigation was undertaken by Working Group 1 of Technical Committee (TC) D.3, Road Bridges, of the World Road Association (PIARC) during the 2016 – 2019 cycle.
The methodology used in this investigation was to seek out and gather information from member countries of TC D.3 on experiences and practices on the subject of designing toward improved future inspection and maintenance. This was accomplished through a survey based on a specifically developed questionnaire and case study template that invited the member countries to describe their experiences and practices in this regard and to share examples.
Information sheet
Date: 2019
Author(s): Comité technique / Technical Committee / Comité Técnico D.3 Ponts / Bridges / Puentes
Domain(s): Road Bridges
Type: Technical Report
PIARC Ref.: 2019R37EN
ISBN: 978-2-84060-574-4
Number of pages: 98