Damage and Deterioration Assessment Decision-Making for Highway Bridge Safety - Technical Report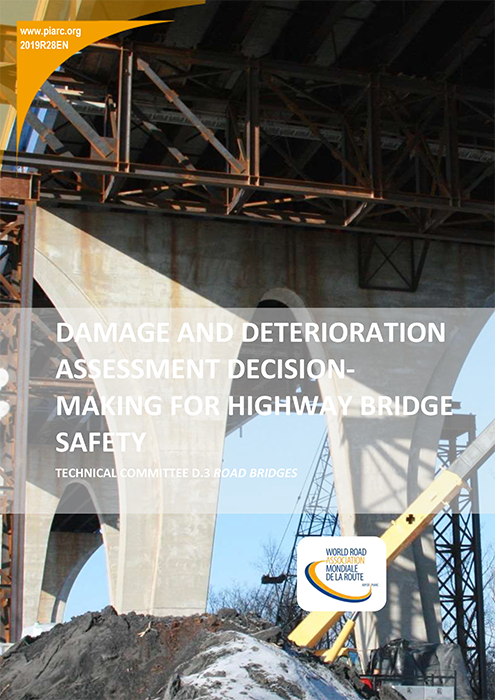 Bridge owners in most countries routinely assess bridge damage and deterioration to ensure the safety of the traveling public and appropriately manage the service life of a bridge. While in service, bridge owners discover damage or deterioration under two main circumstances. Firstly, damage or deterioration resulting over longer periods of time, and secondly damage or deterioration appearing instantaneously. "Triggers" or causes of this damage or deterioration include: environmental impacts, increased live loads, deicing applications, poor detailing in the design phase, poor construction materials and specifications, severe loading events, natural disasters, impacts, construction defects or by human error. At times, this discovery of damage and deterioration may lead to a bridge closure, traffic restriction, or weight restriction. This will result in damage assessment techniques, load carrying capacity calculations, and subsequent remedial works to return the bridge into service.
The objective of the report is two-fold:
to provide an updated perspective on best practice damage assessment techniques used by bridge owners around the world and
to produce a decision process for bridge owners to use as a guide during any damage assessment.
Owners can use the decision-making process described in the report as an important reference with respect to the current damage assessment techniques or to guide them through a bridge incident to ensure the safety of the traveling public.
Information sheet
Date: 2019
Author(s): Comité technique / Technical Committee / Comité Técnico D.3 Ponts / Bridges / Puentes
Domain(s): Road Bridges
Type: Technical Report
PIARC Ref.: 2019R28EN
ISBN: 978-2-84060-562-1
Number of pages: 66