National Policies for Multi-Modal Freight Transport and Logistics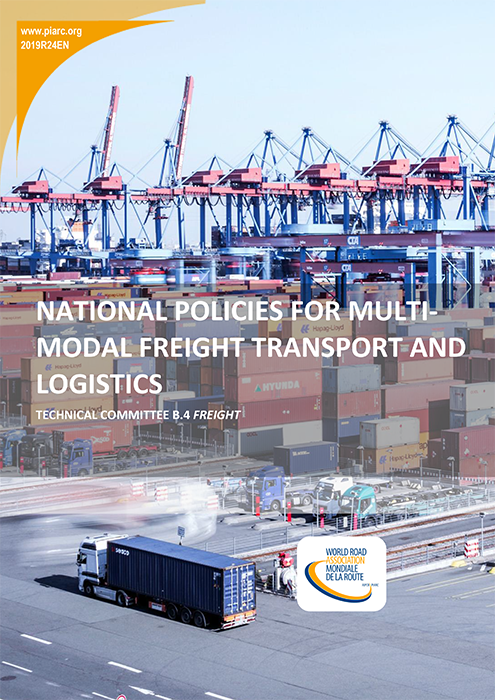 In many countries around the world, national policies for logistics and freight transport are neglected or undervalued compared to passenger mobility and transport. Often, only some elements of freight transport policies are implemented. On the other hand, well-functioning logistics and freight transport systems are crucial for a prosperous economy and thriving society. Therefore, it is important to develop and implement consistent freight transport policies, which aim to optimize the use of all modes and fit into an overall transport strategy. Such policies will lead to a more efficient logistics and freight transport system and reduce negative impacts on the population and the environment. Moreover, this results in a high-quality transport system.
The objective of this report is to provide an understanding of multi-modal freight policies. More specifically, it focuses on trends and challenges affecting multi-modal freight transportation, the drivers behind national multi-modal freight policies, and a summary and analysis of key survey findings and recommendations. In total, 22 organizations in 19 different countries responded to the survey: Argentina, Australia, Austria, Belgium, Bolivia, Canada, China, Czech Republic, Finland, Italy, Japan, New Zealand, Norway, Peru, South Africa, Sweden, Switzerland, United Arab Emirates, and the United States of America.
The report provides a detailed discussion of trends and challenges affecting multi-modal freight transportation and more importantly, the development of national policies that ensures the best and most efficient use of the modal capacity available within the freight transportation system. As explained in the report, multi-modal freight transport involves several types of infrastructure (roads, rail, waterways, air and pipelines), that links together to create optimal freight flows; thus, creating the groundwork for a comprehensive transport policy through better coordination between all modes.
Multi-modal freight transport has a positive effect on the efficiency and quality of freight transport. The improved efficiency and quality of freight transport in turn has positive effects on the economy, society and environment. However, road transport should not be misunderstood as 'the enemy' from multi-modality but as an essential part of the whole transport system. With the predicted growing demand for transport (all modes), it is crucial that several solutions towards sustainable development (like multi-modality) are advocated. Multi-modality is one of the solutions that helps mitigating the negative external effects (congestion, air pollution, climate change, accidents, etc.).
Information sheet
Date: 2019
Author(s): Comité technique / Technical Committee / Comité Técnico B.4 Transport de marchandises / Freight / Transporte de mercancias
Domain(s): Freight Transport
Type: 2019R24EN - Technical Report
PIARC Ref.: 2019R24EN
ISBN: 978-2-84060-555-3
Number of pages: 70