Truck-Traffic on Highways for Sustainable, Safer and Higher Energy Efficient Freight Transport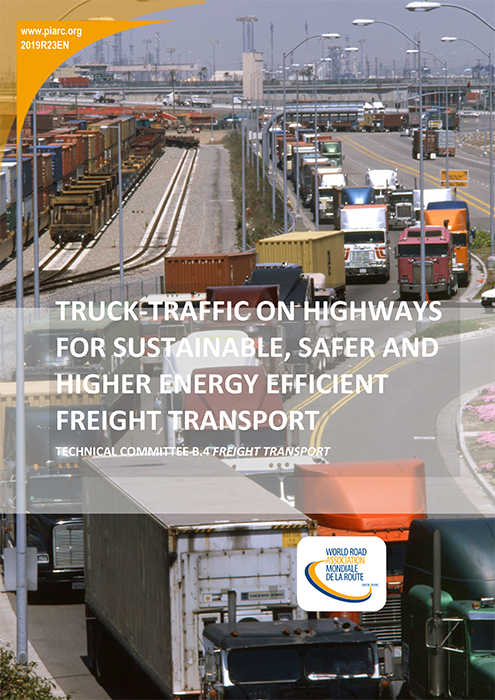 This report presents research and findings on management and operation of truck traffic on highways and motorways for efficient and environmentally friendly, safer and energy efficient freight transport.
There are increasing concerns about the issues related to freight transport on highways and motorways, including traffic congestion, lack of capacity, traffic safety, GHG (Green House Gas) emissions, local emissions, noise and vibrations. This report highlights innovative policy measures to cope with these complicated issues as well as the logistics efficiency, based on the surveys to member countries of PIARC. It discusses truck management on highways and motorways with advanced technologies, including ICT (Information and Communication Technology), ITS (Intelligent Transport Systems), IoT (Internet of Things), platooning, partially automated driving, high capacity vehicles, enforcement and compliance of weights and dimensions. It also demonstrates perspectives of energy efficient and environmentally friendly freight transport in addressing alternative fuels and electrification and optimising routing of vehicles.
Appendices to this report present various good practices on management and operations of freight transport from member countries of PIARC. These good practices give readers new ideas and perspectives to tackle road freight issues and can inspire them to plan innovative policy measures.
We recommend that PIARC member countries establish management and operation systems of truck traffic on highways and motorways for sustainable, safer and high energy efficient transport with the support of advanced technologies including ICT, ITS, IoT, and electrification, as well as, management schemes. Further research through international collaboration is needed on truck traffic on highways and motorways.
Information sheet
Date: 2019
Author(s): Comité technique / Technical Committee / Comité Técnico B.4 Transport de marchandises / Freight / Transporte de mercancias
Domain(s): Freight Transport
Type: 2019R23EN - Technical Report
PIARC Ref.: 2019R23EN
ISBN: 978-2-84060-553-9
Number of pages: 61