Evaluating the Transformation of Transport Administrations - Technical Report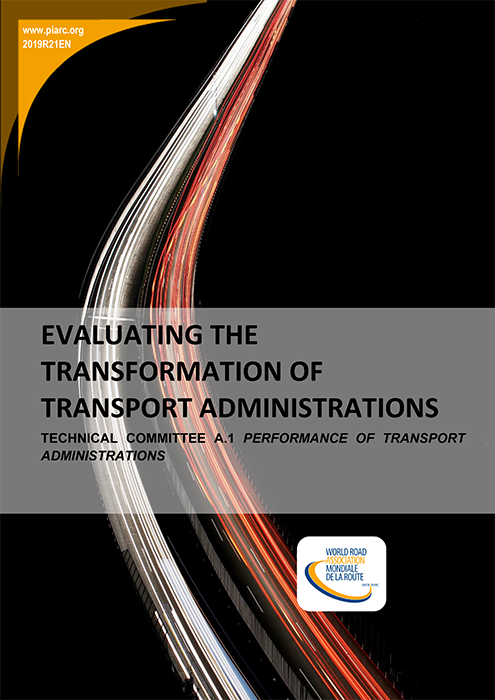 Road and transport administrations across the world face a range of pressures to change the way they plan, organise and deliver services. These pressures vary in nature, for example from changes in the demographic and customer base, the introduction of disruptive technologies, evolving economic, social and environmental regulations, through to the constant political drive to deliver enhanced outcomes with reduced public funding and resources.
Transport administrations may have limited direct control or influence over the extent or scope of such pressures. However, they are able to shape the way they respond. This in turn is more likely to maintain or deliver enhanced organisational efficiency, targeted deployment of resources, customer satisfaction and the achievement of public value and policy outcomes.
This report represents the distillation of the Technical Committee research in this area over the course of the World Road Association's (PIARC) 2016 – 2019 Cycle. Presented at the World Congress in Abu Dhabi in October 2019, it has been prepared by seven active members of the Working Group, supported by academic research by FH Campus Wien sponsored by ASFINAG.
A key conclusion from all these cases is that transport administrations are embedded in systems of public governance. As a result, they potentially carry a 'bureaucratic heritage' with traditional management procedures which are often complex and may adapt slowly and with limited opportunities for, and aversion to, innovation. The nature of infrastructure delivery, requiring long-term planning and risk management, also shapes organisational culture and processes. Compared to other public agencies and the private sector, infrastructure providers tend to have more risk averse, conservative, centralised and hierarchical organisational processes, values and culture. On the other hand, staff in public agencies are more likely to be motivated by serving the public interest and this should be positively harnessed in any change management exercise.
At the same time, organisational culture, underlying any processes and behaviour, constitutes a force of inertia and a source of potential resistance to change if not addressed carefully. Communication plays a crucial role in preventing and managing such resistance. Not only is the formal, procedural side of communication important, but in the case of an intentionally transformational change the actual 'story' and key messages being communicated are also essential. Providing meaningful narratives in a clear, consistent and targeted manner motivates employees and other stakeholders, creates a sense of shared purpose and is a significant means in the transformation of mental models, beliefs and attitudes.
A dedicated leader (or leadership team), with a clear vision and set of change objectives, can improve the chance of a change exercise being successful. Internal leaders of change have the advantages of 'speaking the same language' as current employees, and possessing an understanding of organisational norms, attitudes and culture, as well as procedures, chains of command and hierarchies. On the downside, they run the risk of possessing preconceptions on organisational practices and not being able to adopt the 'eyes of a stranger,' reflecting taken-for-granted beliefs, assumptions and norms. External change managers possess an outsider view, helpful for reflection, critical evaluation and novel ideas, while having comparatively fewer ties and constraints arising out of organisational membership and belonging to the same culture and hierarchies. Their ability to act more freely than a member of the organisation can also be advantageous, especially where change is radical, potentially controversial and challenges existing corporate culture
Information sheet
Date: 2019
Author(s): Comité technique / Technical Committee / Comité Técnico A.1 Performance des administrations de transport / Performance of Transport Administrations / Funcionamiento de las Administraciones del Transporte
Domain(s): Governance of Road Authorities
Type: Technical Report
PIARC Ref.: 2019R21EN
ISBN: 978-2-84060-547-8
Number of pages: 116