Innovative Approaches to Asset Management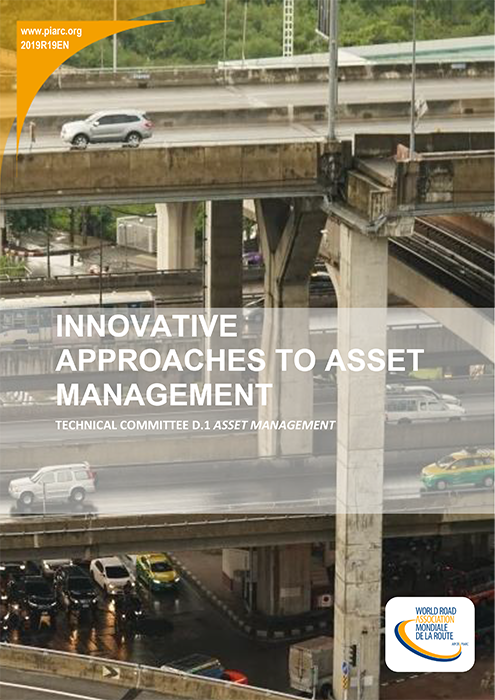 "Asset Management" as defined in ISO standards 55000, aims to enable an organization to obtain value from assets. They offer a structured approach to asset management by focusing on implementation of "risk-based, information-driven, planning and decision-making processes and activities that transform organizational objectives into asset management plans". In the context of road infrastructure, the organizational objectives are closely aligned with asset management objectives, which are to ensure optimum service to road users. Following the need to establish "risk-based, information driven, planning and decision-making processes" the work of Technical Committee D.1 Asset Management focused on innovative methods and techniques that allow managers to obtain high-quality information and on innovative approaches that use this information in risk-based decision-making.
Every decision-making approach is based on the model of reality, which is stored in a database in most organizations. The level of sophistication and versatility of this model, i.e. a "digital twin of road infrastructure", depends on one side on the organizational requirements and on the other side on the technical, organizational and financial capabilities to collect, record and process the necessary data. The level of versatility ranges from a simple list of inventory to a 3D semantically rich geometric representation e.g. Building Information Modelling (BIM). In this report, two chapters address the methods used to collect data necessary to create the "digital twin of road infrastructure" following the usual paradigm to distinguish between the inventory and condition (including risk) data.
Asset Management also includes the communication of current performance goals, condition of infrastructure, intervention planning, financial needs, etc. to owners, authorities and general public. This topic is addressed in a separate chapter. The digital revolution has opened new opportunities to access and use road infrastructure and service data. Providing easy access to information is in the best interest of road organizations as it helps both authorities and the general public to understand and appreciate the importance of readily available road infrastructure to society.
Information sheet
Date: 2019
Author(s): Comité technique AIPCR D.1 - Gestion du patrimoine routier/ PIARC Technical Committee D.1 - Management of road infrastructure assets
Domain(s): Road Assets Management
Type: 2019R19EN -Technical Report
PIARC Ref.: 2019R19EN
ISBN: 978-2-84060-541-6
Number of pages: 102