Project risk catalogue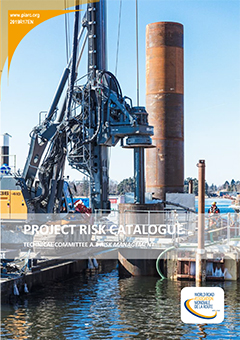 During the PIARC work program for TC A.3 Risk Management 2016-2019, a general, extensive PROJECT RISK CATALOGUE was prepared by WG2 members. To arrive at this catalogue, the working group conducted an effort that involved the documentation of their collective experiences, an extensive literature search, experience from previous cycles, findings from joint international seminars with TC E.1 Adaptation Strategies/Resiliency and E.3. Disaster Management, and experience from local experts from LMIC (Cuba, Vietnam).
The goal of the catalogue is to serve as a comprehensive tool that will help facilitate the risk management process, and supplement brainstorming sessions for the identification of relevant project risks. Although it was intended to be as comprehensive as practical, listing the most frequently occurring risks in major road projects, the catalogue is not intended to be inclusive of all possible risks.
The Risk Catalogue includes the following, broad categories:
Geotechnical and Hydraulics
Technical risks
Financial Risks and Market Conditions
Environmental and Health Issues
Spatial Planning
Political and Legal Issues (non-environmental)
Organizational Aspects
Hazards (Natural)
Hazards (Man-made)
Other.
Under each category, several examples of specific project risks are presented for the various project phases of planning/designing, delivery phase (construction), and maintenance/operation. Additionally, the Risk Catalogue includes suggestions for risk mitigation.
The Risk Catalogue should be helpful to those working on the identification of road project risks at any organizational level, and during any project stage. Risk workshop facilitators, risk managers, and project managers are likely to be interested in using the tool.
This workgroup recommends that the risk catalogue be further developed to improve the user-friendliness and convenience, and expand on its elements so that road organizations can better identify, analyze, and categorize project risks that are essential but often overlooked in the interest in achieving a sustainable development of road assets.
Information sheet
Date: 2019
Author(s): Comité technique / Technical Committee / Comité Técnico A.3 Gestion des risques / Risk Management / Gestión de riesgos
Domain(s): Risk Management
Type: 2019R17EN - Technical Report
PIARC Ref.: 2019R17EN
ISBN: 978-2-84060-536-2
Number of pages: 52