Security of Road Infrastructure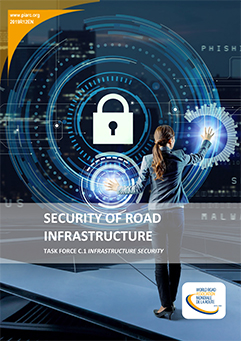 TF C.1 concentrated on "security of infrastructure, transported goods and persons". This decision was based on the experience that, despite the occurrence of incidents taking advantage of the layout and design of road infrastructure to target areas used by pedestrians in order to cause harm, some Road Administrations (hereafter referred to as RAs) are still reluctant to take responsibility for embedding security as business-as-usual in the way they design, construct, operate and maintain their infrastructure.
This Report aims to :
raise awareness andencourage RAs to take a more active role in the security of their infrastructure, and
provide a concrete theoretical background and an example methodology on how security can be embedded.
It therefore sets out:
the different factors in infrastructure security;
key considerations in performing a security risk assessment in respect of resilientroad network assets;
practical examples of the risk assessment process;
recommendations for managers/owners of road infrastructure.
As was the case with the previous PIARC Task Force 2 (2014-2015) [1] the TF C.1 would again like to highlight the problem of confidentiality in relation to bibliography, references, as well as the level of information that can be contained in this type of document. Both of these are constraints on the output that is produced for the PIARC community.
However, the TF C.1 believes that this Report will fulfil its mission in further raising awareness of security issues in PIARC community and will relate a key message: "Security planning and mitigation/prevention capability must become a vital part of organizational structure of modern RAs".
Information sheet
Date: 2019
Author(s): Comité technique / Technical Committee / Comité Técnico C.1 Politiques et programmes nationaux de sécurité routière / National Road Safety Policies and Programs / Políticas y Programas Nacionales de Seguridad Vial
Domain(s): Road Safety
Type: 2019R12EN - Technical Report
PIARC Ref.: 2019R12EN
ISBN: 978-2-84060-524-9
Number of pages: 84