The Snow and Ice Data Book 2018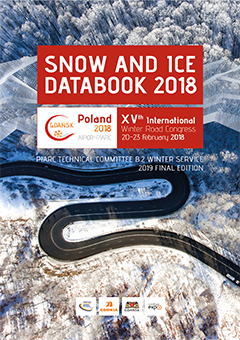 Even though climate change is closely associated with global warming, under the present circumstances it also translates into more extreme weather events. This effect can result in a very mild winter one year followed by a frigid and snowy season the next. Consequently, winter maintenance is very difficult to manage given a context of ever-increasing mobility and declining budgets. We must continue to do our best but with less money. Road network managers must ensure infrastructure remains open so that economic activity is not disrupted while guaranteeing road user safety.
Different types of road users and means of locomotion and transport are affected by winter road service, i.e. pedestrians, cyclists, public transit services, automobiles, and freight carriers. It is important therefore to propose a comprehensive response as regards winter maintenance. This becomes a real challenge, especially in urban environments, and significant resources (both human and equipment) are typically allocated. Sustainable development and environmental protection are fundamental topics, providing the input to regularly reflect on defining better strategies and improving our practices. To advance along these lines, experience-sharing has become essential.
The ambitious goal of the "Snow and Ice Data Book" (SIDB) is to report on experiences in winter maintenance from some 30 countries. This tool was launched more than 15 years ago and its updated version, published every 4 years at the time of the International Winter Road Congress, is always a huge success. The SIDB features a consistent format, with the same sequence of chapters contributed by each country. This document successfully provides an overview of winter maintenance practices across 28 countries.
The XVth International Winter Road Congress, held February 20-23, 2018 in Gdansk (Poland), offered the opportunity to release this fifth version of the SIDB. It will constitute a practical and user-friendly reference for all actors involved in winter service: contracting authorities, project managers, stakeholders, and road users.
Information sheet
Date: 2019
Domain(s): Winter Service
Type: The Snow and Ice Data Book 2018
PIARC Ref.: Snow and Ice Databook - SIDB 2018EN
Number of pages: 267