France's Civil Engineering Museum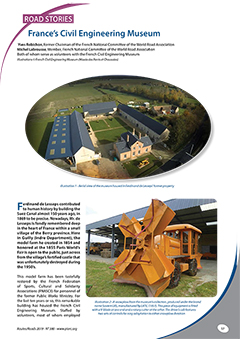 With the World Road Association's
publication on its website of
two technical reports written by
regional French-speaking African
working groups, we felt it highly
relevant to focus on the theme
of «Roads across Africa», through
a series of recordings from the
eponymous exhibition staged in
Paris during the 2017 season at
the Quai Branly - Jacques Chirac
Museum. The following article is
composed of excerpts from these
recordings drawn from both text and
illustrations. It is being published
here with the Museum's muchappreciated
permission.
Information sheet

Date: 2019
Author(s): ROBICHON Yves / LABROUSSE Michel
Domain(s): General
Type: RR380 - ROAD STORIES
PIARC Ref.: RR380-056
Number of pages: 4

This article has been published in the Routes/Roads magazine