Sustainable Mobility: What are the Challenges faced by our Cities and by the World Road Association?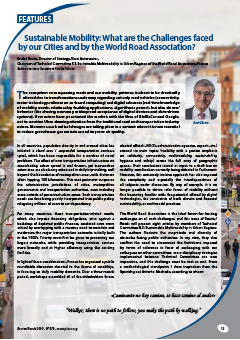 The ecosystem encompassing roads and our mobility patterns is about to be drastically altered due to transformations underway regarding not only road vehicles (connectivity, motor technology, reliance on on-board computing) and digital advances (real-time knowledge
of mobility needs, relationship-building applications, algorithmic power), but also drivers' behavior (the sharing economy, widespread acceptance of digital devices and data-driven systems). New actors have penetrated the market, with the likes of BlaBlaCar and Google, not to mention Uber, drawing attention from the traditional road and transportation industry actors. Moreover, such radical changes are taking place in a context where it is now essential to reduce greenhouse gas emissions and improve air quality.
Information sheet

Date: 2018
Author(s): BROTO André
Domain(s): Urban Mobility
Type: RR379 Features
PIARC Ref.: RR379-013
Number of pages: 1

This article has been published in the Routes/Roads magazine