PIARC Databook of Roads and Road Transport (2014-2018)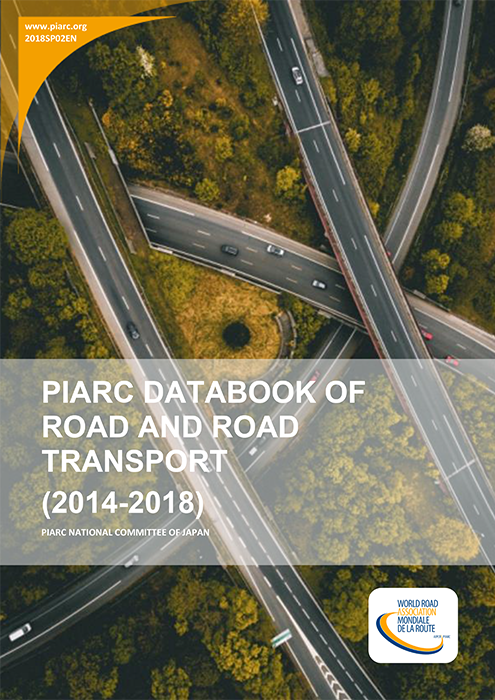 Currently road administrations of many countries face austerities and have to tackle some difficult issues: investing on extension of road network, maintenance and rehabilitation of existing aged roads, prompt recovery of road operation from the damage caused by large-scale disasters, and creation of safe road space. They are requested to assess the importance of political measures and implement them adequately as well as effectively while carefully reviewing the present situation. Then it is critical to collect and analyse the statistics regarding road and road transport, and road administrators, especially engineers, are obliged to conduct quantitative research on and make an objective assessment of actions, in order of priority based on such data analysis.
We also find important to enable an international comparison of road statistics among the countries on the same definition and requirements, thereby allowing us to accurately gauge maturity of road and road transport of each country. Such data collection based on internationally uniform standard will lead to proper understanding of road network development, latest traffic situation, and traffic safety level of a country. Its road authority will accurately identify how developed its road and road transport are among the countries and what to do for further road development. In addition, when political interventions are implemented, data provision will help us achieve consensus about their projects and facilitate communication between stakeholders. Figures are easy to understand and convincing, and they have to be presented by road administrations on any occasion if necessary.
Probably only an international body with long history and organizational significance, such as PIARC, will be able to collect, maintain, and disseminate such road statistics because it has more than 120 governmental members which are expected to manage various figures up-to-date with enough accuracy. In fact, there are some demands for road statistics to be managed by PIARC, and it is one of our missions to satisfy the needs of members, thereby raising the status of and adding the value to PIARC itself.
We expect that the goal of our road statistics is to create international Key Performance Indicators (KPIs) which represent the quality of road and road transport in each country. Although we have to start with a small set of data, through our continuous efforts we wish to realize the provision of such KPIs in wider areas, which then will become the global standard of measurement for road and road transport.
Information sheet
Date: 2018
Domain(s): Road Policies / Governance of Road Authorities
Type: 2018SP02EN - Special Project
PIARC Ref.: 2018SP02
ISBN: 978-2-84060-491-4
Number of pages: 62