Publication sheet
Lean Tech: How to Reduce the Ever-Increasing Equipment in Modern Road Tunnels?
Date : 2018

Author(s) : RIESS Ingo / WELTE Urs
Domain(s) : Road Tunnel Operations
PIARC Ref. : RR378-046

Number of pages : 5

The article shows how to potentially simplify technical installations without creating new risks, whilst always being adapted to safety requirements.
This article has been published in the Routes/Roads magazine
N° 378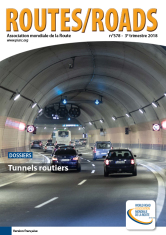 Tunnels routiers
3e trimestre 2018 / Octobre