Road Infrastructure: A Key Building Block for a Safe System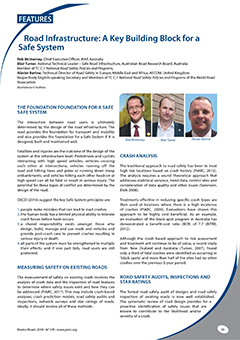 The interaction between road users is ultimately determined by the design of the road infrastructure. The road provides the foundation for transport and mobility and also provides the foundation for a Safe System if it is designed, built and maintained well.
Fatalities and injuries are the outcome of the design of the system at the infrastructure level. Pedestrians and cyclists interacting with high speed vehicles; vehicles crossing each other at intersections; vehicles running off the road and hitting trees and poles or running down steep embankments; and vehicles hitting each other head-on at high speed can all be fatal or result in serious injury. The potential for these types of conflict are determined by the design of the road.
Information sheet

Date: 2018
Author(s): McINERNEY Rob / TURNER Blair / Barlow Alaster
Domain(s): Road Safety
Type: RR376 - Features
PIARC Ref.: RR376-028
Number of pages: 6

This article has been published in the Routes/Roads magazine