Key issues for improving mobility strategies in large urban areas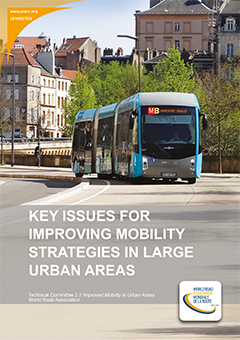 During the period 2012 - 2015, Technical Committee 2.2 collected and evaluated case studies on urban mobility from numerous large and medium-sized cities from all over the world. Three issues were evaluated in these case studies:
a comparison of strategies for sustainable urban mobility, at a mobility plan level.
the design of transport infrastructure for multimodality in urban areas.
te promotion of walking and cycling.
In regard to the first issue, the objective was to find out how policies regarding transportation strategies, methods, and operations are decided and implemented by the authorities in an effort to solve current transportation challenges such as traffic congestion, ever changing population demographics, and environmental impacts. In order to benchmark system performance, mobility data at a metropolitan level was collected and analysed.
In regard to the second issue, the objective was to investigate the sustainability and efficiency of the increasing trend to dedicate travel lanes on existing road networks for use by buses, (bus rapid transit (BRT) systems) or carpooling (high occupancy vehicle (HOV)/high occupancy toll (HOT) systems)) to increase person throughput. The aim was to highlight and better understand the different practices observed among countries. We had also the objective to investigate the increasing motorcycle or scooter evolution, including its advantages and its drawbacks with regard to safety and road management.
In regard to the third issue, the objective was to investigate the evolution of the active modes (walking and cycling), and to identify and benchmark the different mobility plans for walking and cycling that are being implemented in several cities.
Information sheet
Date: 2017
Author(s): Comité technique 2.2 pour l'amélioration de la mobilité dans les zones urbaines Technical Committee 2.2 Improved Mobility in Urban Areas
Domain(s): Urban Mobility
Type: 2016R27EN - Technical Report
PIARC Ref.: 2016R27EN
ISBN: 978-2-84060-427-3
Number of pages: 101