Publication sheet
And what if the road of the future was already within our grasp?
Date : 2017

Author(s) : DUHOO Pascal
Domain(s) : Road Pavements / General
PIARC Ref. : RR374-047

Number of pages : 4

This article describes the breakthrough innovation called Wattway, the world's first photovoltaic road surfacing material.
This article has been published in the Routes/Roads magazine
N° 374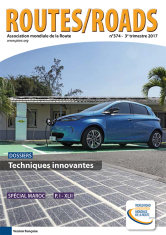 Techniques innovantes
3e trimestre 2017 / Septembre