Sustainability and Climate Change Considerations in Winter Operations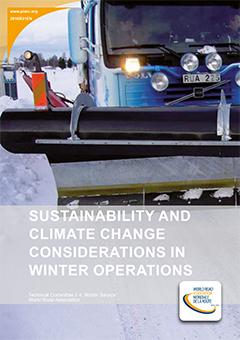 This report has tried to summarize the knowledge of Climate Change Considerations in Winter Operations.
The first step to this project was to source relevant literature on climate change and winter maintenance and sort it into six categories; Level of service for road owners, Maintenance of roads, Forecast models (RWIS), Indicators to find the variation of climate and operations, Different methods, and Infrastructure.
Of the papers that were sourced 45 were selected and read and sorted into the six topics. In each topic one paper was chosen to represent that topic.
It further describes "best practice", i.e. the most sustainable and innovative methods used today. It contains examples on topics such as different ways to inform road users about the road maintenance policies and traffic information about congestion, road work or accidents. It also describes different preventive methods to avoid slippery roads.
This report also lists some new equipment and technologies to help in both the planning and delivery of winter service.
Information sheet
Date: 2016
Author(s): Comité technique 2.4 - Viabilité hivernale Technical Committee 2.4 - Winter Service
Domain(s): Winter Service
Type: 2016R31ES - Technical Report
PIARC Ref.: 2016R31EN
ISBN: 978-2-84060-437-2
Number of pages: 88