Appraisal of Sustainability of Transport Infrastructure Plans and Programs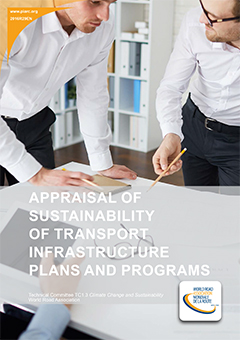 This report gives a scanning overview of the current state of the art on the topic of the appraisal of sustainability within the development of transport plans and investment programs, respectively the extent to which decisions made in this context have taken account of sustainability. The report is based on the result of a questionnaire done within the technical committee and structured around survey findings and case studies.
The scope of this technical report was investigated how the sustainability is considered to be including in plans and programmes. At the plan level the scope is considered to allow for the investigation of multi modal appraisal approaches. The report includes the extent to which sustainability is being considered for countries at different stages of economic development.
The results of the survey show, that in only three out of 18 countries (France, Switzerland and Slovenia) transport and environmental issues are covered by the same Ministry. This practice, important in the sense of sustainability, is the situation of a joint administration for the planning and operation of roads. Respondents from seven of 18 countries have confirmed that the planning and delivery of transport services are coordinated across the different modes of transport by one administration. The findings don´t give a clear answer if a combination of transport and environmental issues in one ministry or administration for different modes of transport is critical for the development of sustainable transport planning. The current practice in many countries shows that separate ministries follow different and little coordinated objectives.
Information sheet
Date: 2016
Author(s): Comité technique 1.3 - Changement climatique et durabilité Technical Committee 1.3 - Climate Change and Sustainability
Domain(s): Environment
Type: 2016R29EN - Technical Report
PIARC Ref.: 2016R29EN
ISBN: 978-2-84060-431-0
Number of pages: 52