Good Governance and Anti-Corruption Measures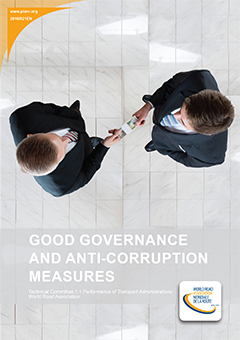 There is increasing emphasis on good governance practice to build and maintain institutional integrity within road and transport administrations. Working Group 3 dealing with "Good Governance and Anti-Corruption Measures" within Technical Committee 1.1 on'Performance of Transport Administrations' of the World Road Association (WRA) has focused its activities on two main elements of integrity:
the influence of the media in creating perceptions relating to institutional integrity;
the practical application of the Integrity Toolkit (which was developed in the 2008 - 2011 cycle by the WRA).
The purpose of this report is three-fold to:
describe current situations of and key issues affecting institutional integrity with a focus on the influence of the media and anti-corruption measures in the transport sector;
provide a snapshot of the effective benchmarks of integrity laws, policies and measures, transferable lessons including implications of increased scrutiny by the media; and
showcase the "Well-Prepared Project" concept which holds that the better a project is prepared, the smaller the risks.
This report includes:
a discussion on the influence of media on institutional integrity,
an overview of the Integrity Toolkit and survey results on the applicability of the Toolkit, and
case studies from various countries documenting lessons learnt about the perception relating to institutional integrity created by the media and good governance and anti-corruption measures and tools.
Information sheet
Date: 2016
Author(s): Comité technique 1.1 - Performance des Administrations routières Technical Committee 1.1 - Performance of Road Administrations
Domain(s): Governance of Road Authorities
Type: 2016R21EN - Technical Report
PIARC Ref.: 2016R21EN
ISBN: 978-2-84060-410-5
Number of pages: 59