Road tunnels: complex underground road networks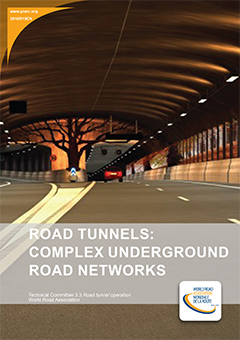 Underground complex road networks are under development in the world due to the growing concentration of the population in large urban areas.
The high occupation on the surface, the extension of the perimeter of the metropolises, the growing demand in travel and mobility, lead naturally and inevitably in the development of underground facilities. These developments raise many questions and PIARC wished to participate in this reflection.
A first step is crossed with the publication of part A of the report whose objective is to make a point as comprehensive as possible of the current situation around the world. Twenty-seven "complex underground road networks" (or tunnels complexes) have been analysed. The teachings and preliminary recommendations obtained from this analysis are presented in this report, which includes in appendix monographic records of each structure.
The sample of the analysed infrastructure is not as exhaustive as the members of the Working
Group have had liked at the start of their work. But the collection of reliable and comprehensive
information being very laborious, it was decided to analyse the information collected in this very significant sample of 27 "tunnels complexes", as a first step, and then, to complete and develop this survey in a next step.
This first analysis highlights the particular problems faced by such networks, and has detected the need for reflection in-depth. Today's networks are indeed often designed by transposing in the underground, the concepts of open air road networks and conventional intercity tunnels.
Indeed less than three countries around the world have developed specific recommendations and/or standards concerning this complex infrastructure.
Information sheet
Date: 2016
Author(s): Comité technique 3.3 Exploitation des tunnels routiers / Technical Committee 3.3 Road Tunnel Operation
Domain(s): Road Tunnel Operations
Type: 2016R19EN - Technical Report
PIARC Ref.: 2016R19EN
ISBN: 978-2-84060-404-4
Number of pages: 80