Lay bys and protection against lateral obstacles - Current practices in Europe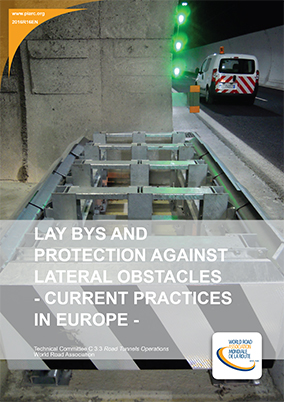 Accidents which have occurred in tunnels have brought to light the danger that the perpendicular end-wall of lay-bys can present to road users in tunnels.
Various European representatives of the PIARC Road Tunnel Operations Committee engaged in discussions on the topic of lay-bys and lateral obstacles in tunnels. A workshop was organized on this issue in 2013.
This document is a follow-up to the discussions of the workshop. Chapters 1 to 7 present the individual position of each participating country in the form of: a brief overview of the number and layout of lay-bys, feedback on accidents involving lay-bys or other lateral obstacles, reference to any studies conducted on this issue and other relevant information. Only Chapter 8 (Conclusions) reflects a PIARC consensus on this complex topic.
The document also summarizes the main discussions during the European Commission's Tunnel Safety Committee in October 2014 and the main lessons learnt by the countries involved in this initiative. In addition, it refers to PIARC's recommendation to take into account the
"Road safety" Directive 2008/96/EC in the context of road tunnels.
Information sheet
Date: 2016
Author(s): Comité technique 3.3 Exploitation des tunnels routiers / Technical Committee 3.3 Road Tunnel Operation
Domain(s): Road Tunnel Operations
Type: 2016R16EN - Technical Report
PIARC Ref.: 2016R16EN
ISBN: 978-2-84060-400-6
Number of pages: 38