Preserve your Country's roads to Drive Development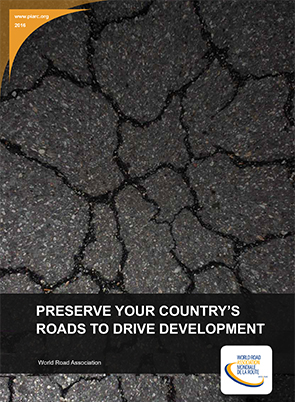 The economy of every country has a strong relationship with its road network. A well preserved network will attract investment and make growth happen. It will also help meet the UN Sustainable Development Goals by improving accessibility and mobility to schools, health facilities and markets. It will also go some way to meeting targets on road safety and climate.
This short, well illustrated document explores what key decision takers need to know about the basic principles of road maintenance, its importance for growth and how the challenges of achieving good maintenance can be addressed.
The factors that contribute to sustainable road preservation are multidimentional and inter-dependent. This is illustrated in the document as a pyramid inter-linked at all levels.
The document carries a brief and simple message - action is not urgent - it is critical.
Information sheet
Date: 2016
Author(s): DFID
Domain(s): Road Assets Management
Type: 2016R07EN - Technical Report DFID
PIARC Ref.: 2016R07EN
ISBN: 978-2-84060-385-6
Number of pages: 46