International climate change adaptation framework for road infrastructure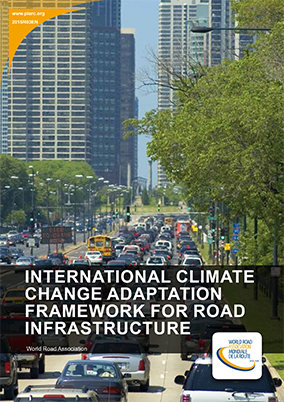 Actions undertaken to mitigate the negative effects of climate change on road networks have varied from one country to another. They include legal, regulatory and institutional measures; promoting other transport modes; introducing new, green technologies; undertaking permanent supervision of embankments and slopes to reduce risks of collapse, accidents and interruptions of service, as well as developing new methodologies and analytical tools to identify, assess and mitigate risks and thus reduce the vulnerability of the road infrastructure.
Despite all these efforts, dealing with the effects of climate change is still a new topic and there are no easily accessible references to help transport and road decision-makers to cope with the problem and manage it systematically and efficiently. While some countries have made progress on this subject, others are yet to start their own efforts. In recognizing this situation, the World Road Association has completed this "International Climate Change Adaptation Framework for Road Infrastructure" to help member countries adopt a consistent approach to analyze the effects of climate change on their road networks and thus help them identify, propose and prioritize the most appropriate measures to mitigate risks associated with extreme weather events.
Information sheet
Date: 2015
Author(s): TOPLIS Caroline, AECOM Project Manager / KIDNIE Murray / MARCHESE April / MARUNTU Cristina / MURPHY Helen / SEBILLE Robin / THOMSON Stephen
Domain(s): Environment / Risk Management
Type: Special project - 2015R03EN
PIARC Ref.: 2015R03
ISBN: 978-2-84060-362-7
Number of pages: 88